Weather Forces Crews to Reschedule Paving for Arapahoe Road/I-25 Project
GREENWOOD VILLAGE—Due to recent rainfall, crews were unable to finish asphalt paving on Arapahoe Road; therefore, the following closures will be required on Arapahoe Road, the I-25 on- and off-ramps and Yosemite Street:
6 p.m. to 5:30 a.m., Thursday, Sept. 28 and Friday Sept. 29

Various closures of eastbound and westbound Arapahoe Road on-ramps to southbound and northbound I-25
Use Dry Creek and Orchard roads as alternate exits.

8 p.m., Sunday, Oct. 1 to 5:30 a.m., Monday, Oct. 2

Southbound I-25 off-ramp to Arapahoe Road closed
Use Orchard Road as an alternate exit.

5 a.m. through 8 p.m. both Saturday, Sept. 30 and Sunday, Oct. 1

Both directions of Yosemite Street will be closed from Arapahoe Road to Yosemite Circle for final paving
Eastbound Arapahoe Road will be closed from Greenwood Plaza Boulevard to Yosemite Street for final paving.
Westbound Arapahoe Road will be restricted to one through lane between Yosemite Street and Greenwood Plaza Boulevard.
Businesses will remain accessible, but in some instances drivers will need to use alternate routes to access businesses.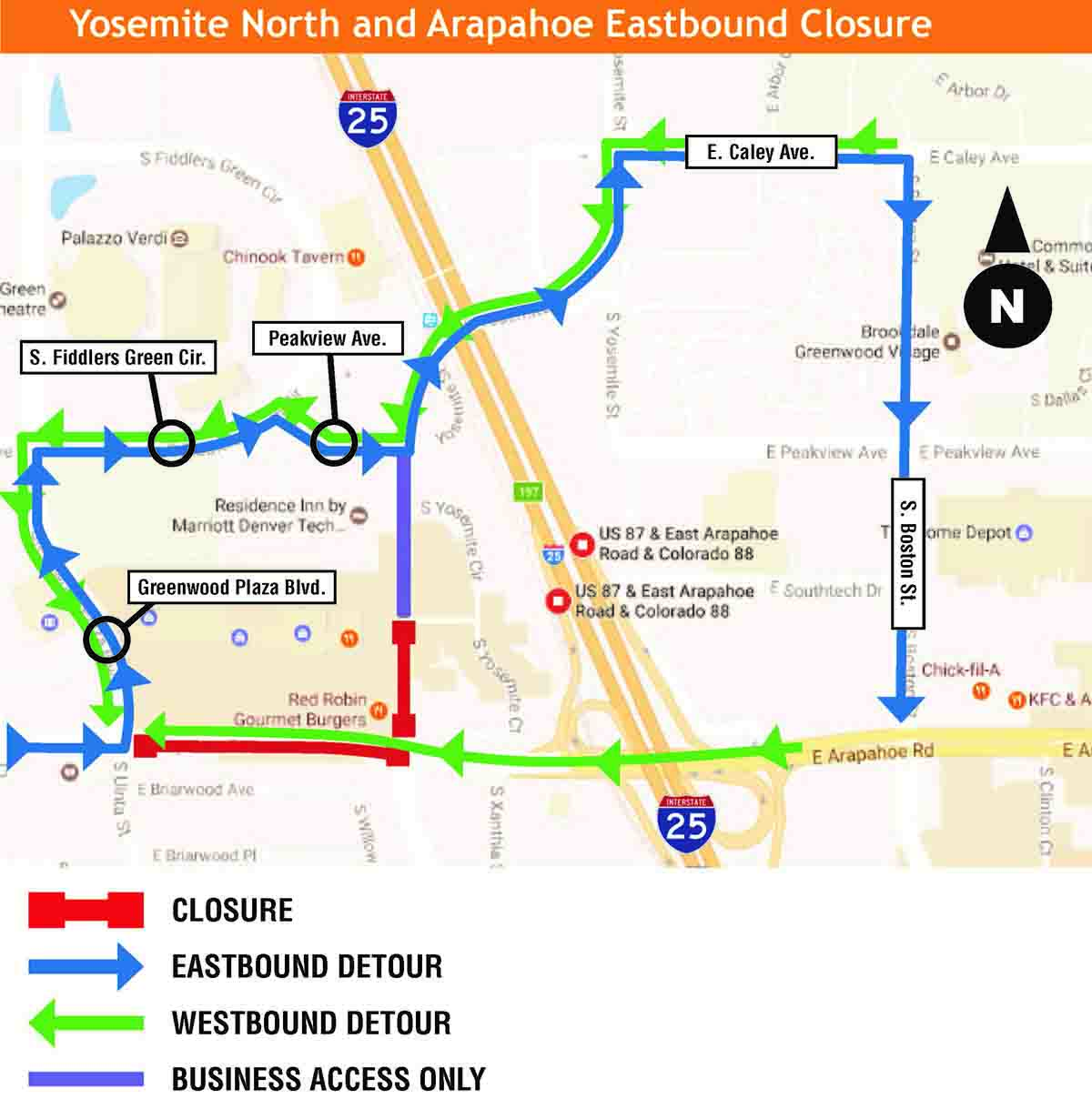 Detour Routes
Pedestrian access for the Yosemite Street closure will be via Yosemite Circle.
Pedestrian access for the Arapahoe Road closure will remain on the south side of Arapahoe Road.
Project Info
This $66 million Responsible Acceleration of Maintenance (RAMP) project includes: building an additional lane along westbound Arapahoe Road from Yosemite Street to Greenwood Plaza Boulevard; providing three left turn lanes from the I-25 off-ramps; realigning the frontage road in the northeast quadrant of the interchange; building noise walls near the Arapahoe Road and Yosemite Street intersection; and widening Yosemite Street from Yosemite Circle on the north to Xanthia Street on the south. This project is designed to reduce congestion and improve traffic operations and safety. Substantial completion is slated for summer 2018.
Due to ongoing construction activity in this area and nighttime travel impacts, alternative transportation modes are encouraged. For information on the Regional Transportation District's Southeast Rail Line or local bus services, call 303-299-6000. For information on carpool and vanpool services, call 303-458-7665.