Eastbound I-70 Fall River Road Exit (Exit 238) will be closed overnight on Monday, August 26
August 20, 2019 - Denver Metro Area, Colorado - The night closure is necessary to deliver and stage girders for the new Fall River Road bridge construction
CLEAR CREEK COUNTY – The Colorado Department of Transportation will close access to Exit 238 (Fall River Road) on eastbound I-70 from 7 p.m. Monday, August 26 to 6 a.m. Tuesday, August 27. The closure is necessary to deliver and stage girders for the construction of the new bridge that will connect Stanley Road to the Fall River Road/I-70 interchange. The project supports CDOT's vision to improve safety, mobility and connectivity on the I-70 mountain corridor and the Whole System, Whole Safety initiative.
CLOSURE LOCATION
The location of the on and off ramp closures are on eastbound I-70 at Exit 238 (MP 238) at the Fall River Road/I-70 interchange (see map below).
DETOUR & TRAVEL IMPACTS
CDOT anticipates some travel impact to motorists during the hours of closure. These include:
The on and off ramps on eastbound I-70 at Exit 238 will be closed from 7 p.m. on Monday, August 26 to 6 a.m. on Tuesday, August 27.
Motorists traveling eastbound on I-70 will be detoured to Exit 239 (Idaho Springs), adding approx. 2 miles and 3 minutes to travel times.
Local traffic from Fall River Road to the north of I-70 will not be able to access eastbound I-70 through the interchange.
This local traffic will be detoured westbound to Exit 235 (Dumont) to gain access to eastbound I-70, adding approx. 5 miles and 6 minutes to travel times.
The on and off ramps will reopen at 6 a.m. on Tuesday, August 27.
Advanced warning and detour signage will be in place to safely direct motorists around the closures.
Barricades will be in place under the bridge at the Fall River Road/I-70 interchange.
All lane closures and other traffic notices are posted on

 

COTrip.org.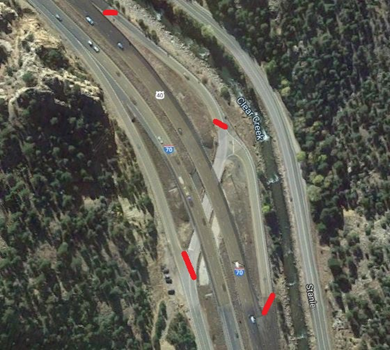 Aerial view of east and westbound I-70 showing all closures (in red) 
at Exit 238 (Fall River Road/I-70 interchange) from I-70 eastbound, and at 
the interchange from the north.  
GENERAL PROJECT DESCRIPTION
CDOT is building a two-lane vehicular bridge across Clear Creek to connect Stanley Road to the Fall River Road/I-70 interchange at Exit 238. Crews will also raise a nearly 900-foot stretch of Stanley Road by four feet to meet the profile of the bridge, build a 10-foot wide sidewalk, make drainage improvements, and add barriers and guardrails for pedestrian and cyclist safety. Stanley Road has been reduced to a single lane configuration through the construction zone, with alternating east and westbound traffic directed by automated signals.
PROJECT SCHEDULE
Work began on May 20, and completion is scheduled for late November 2019.
PROJECT INFORMATION
Get direct email announcements and updates by signing up at [email protected]. For additional information about this project, call the local project information line at720.589.3505, or visit the project website at https://www.codot.gov/projects/i-70-stanley-fall-river-bridge. For information on lane closures, please visit COTrip.org, or call 511. Updates are also available via Twitter @coloradodot and CDOT's Facebook page at Facebook.com/coloradodot.
REMEMBER: SLOW FOR THE CONE ZONE
The following tips are to help you stay safe while traveling through maintenance and construction work zones.
Do not speed in work zones. Obey the posted speed limits.
Stay Alert! Expect the unexpected.
Watch for workers. Drive with caution.
Don't change lanes unnecessarily.
Avoid using mobile devices such as phones while driving in work zones.
Turn on headlights so that workers and other drivers can see you.
Be especially alert at night while driving in work zones.
Expect delays, especially during peak travel times.
Allow ample space between you and the car in front of you.
Anticipate lane shifts and merge when directed to do so.
Be patient!
WHOLE SYSTEM. WHOLE SAFETY.
To heighten safety awareness, CDOT recently announced its Whole System — Whole Safety initiative. This project takes a systematic statewide approach to safety combining the benefits of CDOT's programs that address driving behaviors, our built environment and the organization's operations. The goal is to improve the safety of Colorado's transportation network by reducing the rate and severity of crashes and improving the safety of all transportation modes. The program has one simple mission—to get everyone home safely.
ABOUT CDOT
CDOT has approximately 3,000 employees located throughout Colorado, and manages more than 23,000 lane miles of highway and 3,429 bridges. CDOT also manages grant partnerships with a range of other agencies, including metropolitan planning organizations, local governments and airports. It also administers Bustang, the state-owned and operated interregional express service. Governor Polis has charged CDOT to further build on the state's intermodal mobility options.