CO 145 rock slide closes highway; US 550 closed this weekend for bike event
May 24, 2019 -

SOUTHWEST COLORADO—CDOT has closed portions of Colorado Highway 145 following a significant rockfall on Friday afternoon, and will close US Highway 550 for a bike event.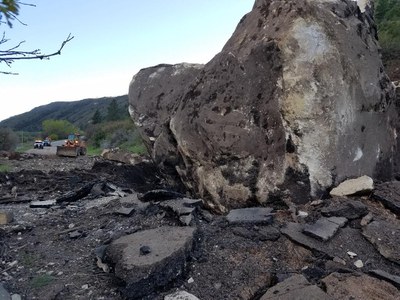 CO 145 Rockfall Between Cortez & Telluride
CO Highway 145 is closed indefinitely approximately 12 miles north of Dolores, at mile point (MP) 22. The slide consists of dirt, rock and two huge boulders, which have destroyed the full width of the highway pavement, leaving an approximate eight-foot-deep trench across both lanes. The road is impassable at this time.
A geo-technical team, equipment and supplies are being brought to the site, but it is not known when the road can be reopened. A boulder, the size of a building, which remains embedded on the highway, needs to be blasted into smaller pieces to move it off the roadway.
US 550 Bike Event Closure
US 550 north of Durango will also be closed from 8:30 a.m. to 1:30 p.m. Saturday, May 25, during the 48th Annual Iron Horse Bicycle Classic. Please leave Durango early if traveling to Silverton or points beyond as US 550 will be closed between Purgatory Ski Resort and Silverton. Travelers heading south (out of Ouray, Ridgway or Montrose) on US 550 should be aware the highway will be closed at Silverton, also at 8:30 a.m.
Alternate route: If travel is absolutely unavoidable, consider the alternate westerly route via Dove Creek, Slick Rock and Norwood. This suggested alternate route is expected to take just more than four hours of driving time.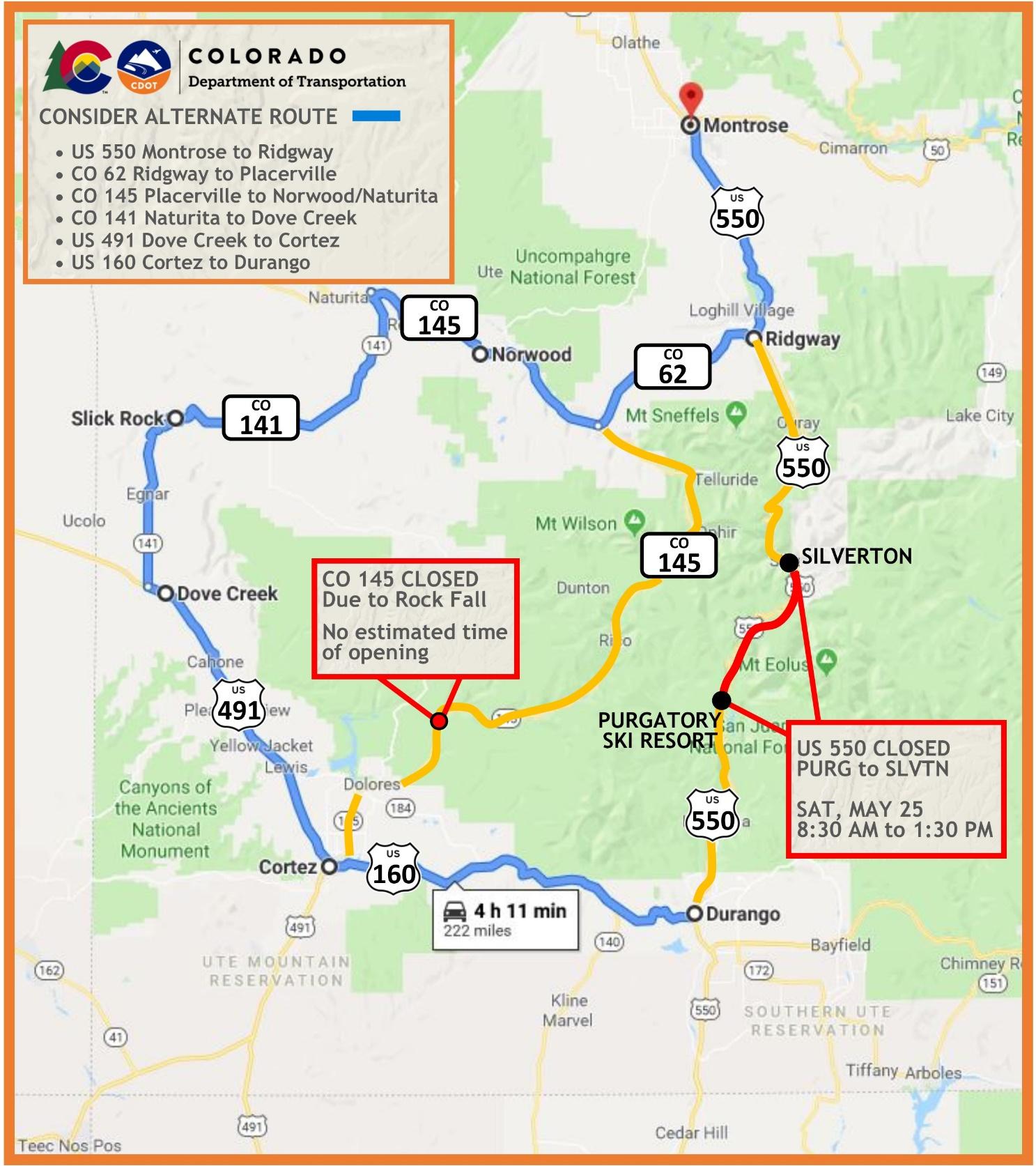 US 550 Montrose to Ridgway
CO 62 Ridgway to Placerville
CO 145 Placerville to Norwood/Naturita
CO 141 Naturita to Dove Creek
US 491 Dove Creek to Cortez
US 160 Cortez to Durango
Stay Informed
Get real-time road conditions on COtrip, or by dialing 511 from anywhere in the state. Helpful resources on COtrip include: