CDOT completes US 160/491 Towaoc to Cortez resurfacing project
September 1, 2020 - Southwestern Colorado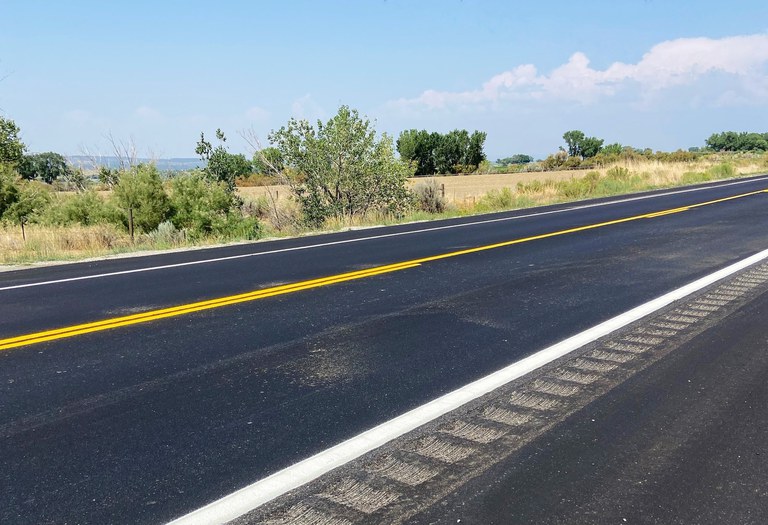 MONTEZUMA COUNTY - The Colorado Department of Transportation and contractor Intermountain Slurry Seal are pleased to announce the completion of the surface treatment project on US Highway 160/491. The project took place on US 160/491 from Mile Point 29.75, 2 miles north of Towaoc and continued for more than five miles to MP 34.89 near Cortez. The southern limits of the project adjoin the US 160/491 Towaoc passing lanes project that was completed earlier this year.
As part of CDOT's Whole System—Whole Safety initiative, this project focused on a chip seal and micro-surfacing application that included three thin layers of resurfacing to protect and prolong the surface of the roadway and reduce overall cracking in the existing asphalt. Interfacing these three layers of oil and rock creates a strong and flexible mat that will preserve the existing asphalt beneath. The new surface will enhance safety for motorists by providing a smoother surface for vehicles. Crews also installed rumble strips and new striping.The new striping will offer better visibility, while rumble strips will alert drivers if they are leaving or veering off the roadway or lane.     
COVID-19
Safe transportation infrastructure is essential for all of us, particularly for emergency first responders and freight drivers as Colorado navigates the COVID-19 pandemic. With that in mind, CDOT maintenance and construction crews  follow social distancing and other health safety measures to reduce COVID-19 exposure on the worksite. The Colorado Department of Public Health and Environment announced guidelines for construction activities. The public is urged to join the campaign for #DoingMyPartCO by practicing social distancing and wearing face masks.  As traffic returns to normal levels, motorists must drive cautiously and heed the speed limit so all of us can return home safely.   
Whole System. Whole Safety. 
To heighten safety awareness, CDOT recently announced its Whole System — Whole Safety initiative. This project takes a systematic statewide approach to safety combining the benefits of CDOT's programs that address driving behaviors, our built environment and the organization's operations. The goal is to improve the safety of Colorado's transportation network by reducing the rate and severity of crashes and improving the safety of all transportation modes. The program has one simple mission—to get everyone home safely.