Construction Started to Widen US 85 Between Sedalia & Louviers in Douglas County
September 24, 2020 - Douglas County - Project made possible due to collaboration between CDOT and Douglas County
DOUGLAS COUNTY - Construction is under way to widen and improve U.S. 85 between Sedalia (SH 67) and Louviers in Douglas County.  Known by residents as the "mini gap," this 2.5 mile stretch will be widened from two to four lanes.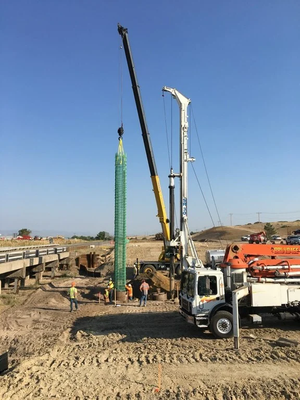 The project will ease congestion, improve access to side streets and left turn lanes, improve drainage, enhance safety, add wildlife fencing and build a new bridge.  The project is scheduled for completion in spring 2022.
"This project is the result of strong collaboration between the Colorado Department of Transportation (CDOT) and Douglas County to address critical transportation safety and mobility  in a high-growth area of the metro region," said Paul Jesaitis, who is director of CDOT's Region 1 covering an eight-county area in the Denver metro region. 
"Thanks to County voter-approval of Ballot Issue 1A last November, we are able to accelerate our investment to US 85 corridor improvements," said County Commissioner and Board Chair Roger Partridge. "We are pleased to be able to support countywide, growth management-related transportation projects such as this, consistent with citizen feedback we received in our 2017 and 2019 countywide surveys."
"We have a Long-standing tradition of partnering with CDOT, as well as others, to improve the State Highway System within Douglas County," said County Commissioner and Vice Chair Lora Thomas. "Cost-sharing in these primary corridors allows us to improve safety and sustain our mobility," Thomas said.
"Identifying traffic solutions for our growing citizen population remains a top priority," said County Commissioner Abe Laydon. "We are motivated to keep working hard to leverage multiple transportation funding sources from federal, state and local governments, as well as private sector partners, to accelerate these projects."
Information resources
TRAVEL IMPACTS AND SAFETY REMINDERS
Construction activities start on the east side of US 85.
There will continue to be one lane open in each direction during construction.
During the course of the project, there will be occasional lane closures that shift traffic to a single lane in each direction.
There will be shoulder closures at times.
There could be delays of five to ten minutes.
The speed limit will be reduced to 45 mph through the work zone with possible reductions to 40 mph when flaggers are present.
Motorists are urged to heed the speed limit, watch for workers, leave ample space behind the vehicle ahead and be extra alert.