New interchange construction starts soon at US 85 and WCR 44
December 7, 2021 - Northeastern Colorado
WELD COUNTY – The Colorado Department of Transportation will start a major construction project in Peckham near U.S. Highway 85 and Weld County Road 44 this month. When complete in fall 2023, a new interchange will improve safety, eliminate interaction between vehicle traffic and the Union Pacific Railroad, and provide efficient access control.
"US 85 is a vital north/south corridor in northern Colorado, connecting agriculture to market and communities to economic centers. Safety is foundational to CDOT's mission and eliminating conflicts with passenger vehicles and the railroad is key to addressing the safety needs on this corridor," said CDOT Region 4 Transportation Director Heather Paddock. "This project will eliminate two railroad crossings, the last two of 12 crossings that have been removed in partnership with UPRR and Weld County. Additionally, the project will address the current skewed configuration of the US 85 and WCR 44 intersection and the proximity to the UPRR tracks, greatly improving the traffic operations and safety along this corridor."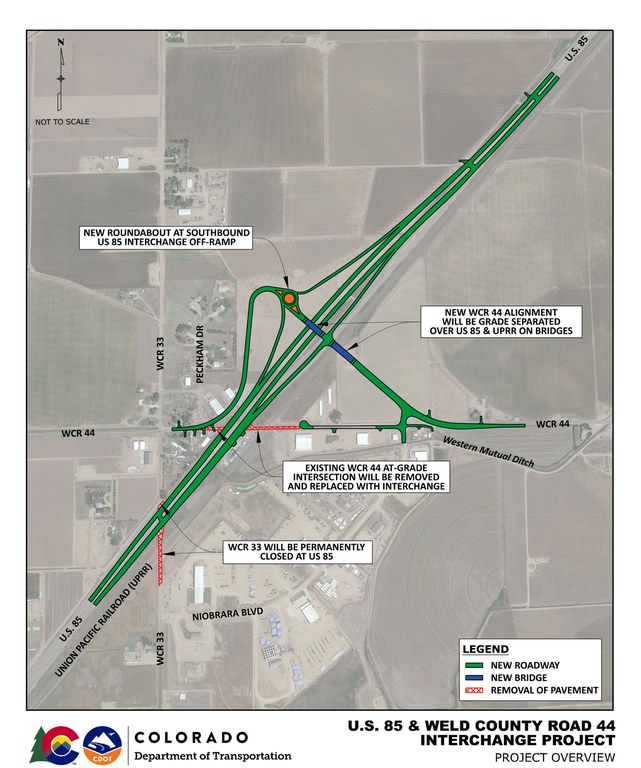 Jalisco International was awarded a $28-million contract to construct the new interchange and will begin work this month. US 85 will remain open during construction. Since most construction activity will take place adjacent to the highway, only infrequent traffic impacts are anticipated on US 85. "Thankfully, the project was designed to leave the current intersection in place during construction in order to maintain mobility for all highway users including our agricultural community," Paddock said.
General work hours are Monday through Friday from 7 a.m. to 5 p.m. with occasional extended hours and weekend work. Drivers should expect trucks entering and exiting the work zone. Frequent truck trips are
anticipated for several months to haul fill material to the site. Construction schedules are weather-dependent and subject to change. Weekly updates are available on the project web page.
Stay Informed
For additional information about this project, contact the project team.
Know Before You Go
Travelers are urged to "know before you go." Gather information about weather forecasts, anticipated travel impacts and current road conditions prior to hitting the road. CDOT resources include:
Road conditions and travel information: www.COtrip.org
Project or travel alerts: bit.ly/COalerts
Scheduled lane closures: codot.gov/travel/scheduled-lane-closures.html
Social media: Twitter @coloradodot and Facebook facebook.com/coloradodot
Remember: Slow For The Cone Zone
The following tips are to help you stay safe while traveling through maintenance and construction work zones.
Do not speed in work zones. Obey the posted speed limits.
Stay Alert! Expect the unexpected.
Watch for workers. Drive with caution.
Don't change lanes unnecessarily.
Avoid using mobile devices such as phones while driving in work zones.
Turnon headlights so that workers and other drivers can see you.
Be especially alert at night while driving in work zones.
Expect delays, especially during peak travel times.
Allow ample space between you and the car in front of you.
Anticipate lane shifts and merge when directed to do so.
Be patient!