Dads don't read instructions? We beg to differ.
June 15, 2022 - Statewide Traffic Safety - With 44 child traffic fatalities since the start of 2021, car seats should be on your mind this Father's Day
Statewide — We know dads sometimes get a bad rap when it comes to reading instructions, but we don't buy it. Dads will do anything to keep their children safe, and learning all they can about proper car seat use is no exception. Reading car seat and vehicle owner's manuals can help ensure your newborn, toddler, preschooler or tween is as safe as possible in case of a crash.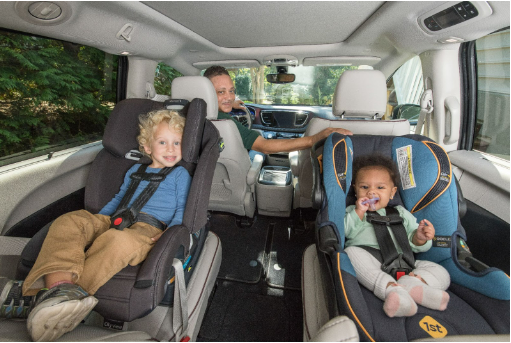 Since the beginning of 2021, 90 citations have been issued for unrestrained children during CDOT's Click It or Ticket enforcement periods. In 2020, 102 children under 14 years old were hospitalized after being in a crash.
June 19 is Father's Day, and Car Seats Colorado is urging all dads, as well as all parents and caregivers, to educate themselves on the finer points of car seat safety. Reading owner's manuals and understanding safety laws can save lives and help you avoid costly mistakes. Parents and caregivers are responsible for properly restraining a child and will be ticketed if they fail to do so.
Car Seats Colorado program coordinator Colorado State Trooper Tim Sutherland says reading owner's manuals can help parents and caregivers avoid a few top mistakes that car seat technicians see during car seat inspections:
Turning around a rear-facing seat too soon
Moving your kid out of a booster seat too soon
Harness straps that are too loose
Improperly securing the car or booster seat to the vehicle's seat
Using car seats that have expired
"We also urge parents to never, ever leave a child in a hot car unattended," said Trooper Sutherland. "Keeping these common mistakes in mind, and ensuring your child is restrained properly this summer will save lives."
It's important to read car seat and vehicle owner's manuals because every seat brand and type, and every make and model of car are different. All safety seats should be installed and fitted according to each manufacturer's instructions. How will the airbags affect safety in a crash? Should you use the anchors or seat belt to secure the seat? What angle should the seat be adjusted to? The little things matter, and doing them wrong can be dangerous. Vehicle crashes are a leading cause of death for children.
Dads, you're not alone. We're here to help. Car seat checks by certified car seat safety technicians are available at car seat inspection stations across Colorado. Stop in and get a little help from certified professionals.
Dads, we're sure you're already a pro at reading instructions, but this Father's Day, take just a little extra time to ensure the safety of your little ones on the road. Learn more at CarSeatsColorado.com.
Car Seats Colorado is always in need of more certified car seat safety technicians. If you're interested in helping parents and caregivers protect their little ones, email Trooper Tim Sutherland at [email protected].
About Car Seats Colorado
Car Seats Colorado is a joint effort of the Colorado State Patrol, CDOT, local car seat technicians, law enforcement, emergency services and other professionals who are dedicated to implementing child passenger safety programs and encouraging parents to take the necessary steps to protect their children when in vehicles. Learn more about how to keep children safe in vehicles and download informational resources at CarSeatsColorado.com.