Gigantic seat belt projection to remind drivers to buckle up heading into Independence Day
June 30, 2022 - Statewide Traffic Safety - Increased DUI enforcement also in effect during holiday weekend
Statewide — Every year, unbuckled and impaired driving fatalities trend upward during the summer months. To address this deadly pattern, CDOT, along with local law enforcement agencies are ramping up multiple safety efforts heading into the 4th of July holiday weekend. Roadway fatalities are up 14% this year in the Denver Metro area.
On July 1 from 7 p.m. – 1 a.m., CDOT will cast a nearly 15-foot-tall digital projection of a seat belt in downtown Denver to remind fans at Friday night's Rockies game that there are countless reasons to buckle up — one being that baseball season isn't over! This is part of CDOT's Reasons to Buckle Up campaign, which launched this week across Colorado. The digital projection will be on the side of the Denver College of Nursing building (1401 19th St.) near Coors Field.
To date, there have been 121 traffic fatalities in the Denver area, up from 106 this time last year. That is a 14% increase. Statewide fatalities are up slightly from 295 last year to 300 traffic deaths this year.
The Fourth of July holiday is considered one of the deadliest holidays of the year due to alcohol impaired driving crashes, according to the National Highway Traffic Safety Association (NHTSA). Nine fatalities occurred last year over the Independence Day holiday, with more than half (five) involving an impaired driver or motorcyclist.
DUI enforcement will also be in full swing during the holiday weekend. Almost 50 law enforcement agencies from across the state will be increasing patrols, which may include DUI checkpoints or saturation efforts in certain areas.
"We have zero tolerance for impaired drivers on our roads. And buckling up is one of the best ways to stay safe. Getting thrown from a vehicle or getting tossed around violently inside during a crash from not wearing a seatbelt will probably only happen once in your lifetime. It will be at the end, " said Col. Matthew C. Packard, Chief of the Colorado State Patrol. "Your loved ones are counting on you to get home. Buckle up and never drive impaired."
Seat belt use — or the lack thereof — is a leading safety concern on Colorado roads. About 14% of Coloradans do not buckle up, higher than the national average of just 10%. Seat belt and DUI enforcement will continue throughout the summer, especially during holiday weekends.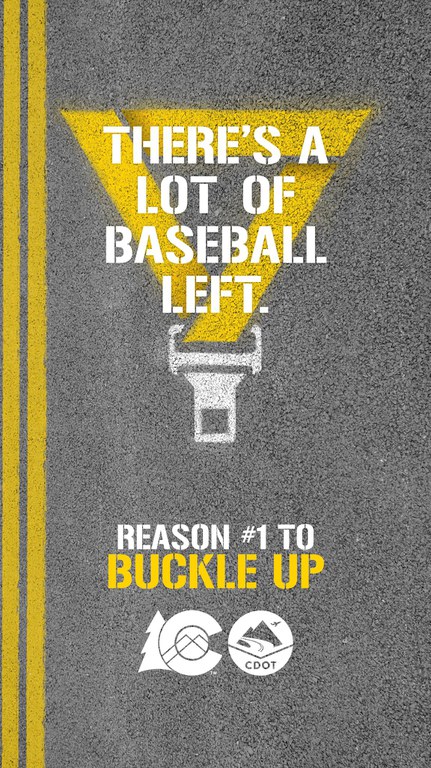 The most recent Click It or Ticket enforcement period, from May 16 to June 5, resulted in 907 citations across 64 participating law enforcement agencies. Among those citations, 24 included drivers who had an improperly restrained child under the age of 15 in their vehicle. The next enforcement will occur July 25 to Aug. 5.
"Summer is a special time, with a lot of events and activities to look forward to. But for the traveling public, it can be a dangerous time on the road," said CDOT's Office of Transportation Safety Director Darrell Lingk. "The choice to drive impaired or to not wear your seat belt exponentially increases your chances of being seriously injured or killed in a crash."
To encourage people to use rideshare, CDOT is partnering with Anheuser-Busch, Mothers Against Drunk Driving (MADD) and Uber this summer for the Decide to Ride campaign. The campaign asks people to leave their keys at home and take a sober ride. Uber discounts will be available in Denver during the Fourth of July holiday. Discount information can be found in upcoming CDOT social media posts.
The Decide to Ride team was at The Denver BBQ Festival earlier this month where they gathered signatures of Coloradans pledging to not drive impaired. For more information, visit: https://www.anheuser-busch.com/decide-to-ride/.
There are 16 impaired driving high visibility enforcement periods in 2022, with six occurring during the summer months. A total of 826 DUI arrests have taken place already this year during enforcement periods, with most arrests from the Colorado Springs Police Department, Denver Police Department and Larimer County Sheriff's Office.
For yearly impaired-driving crash and fatality data in Colorado, visit https://www.codot.gov/safety/traffic-safety/crash-data-management/fatal-crash-data. Local agency DUI enforcement plans can be found at https://www.codot.gov/safety/traffic-safety-reporting-portal.
To learn more about Click It or Ticket enforcement and Colorado's seat belt laws, visit codot.gov/safety/seatbelts. For Spanish campaign information, visit https://www.codot.gov/safety/seatbelts/cinturones-de-seguridad/.
About The Heat is On
The CDOT Highway Safety Office provides funding to Colorado law enforcement for impaired driving enforcement, education and awareness campaigns. The Heat Is On campaign runs throughout the year, with 16 specific high-visibility impaired driving enforcement periods centered on national holidays and large public events. Enforcement periods can include sobriety checkpoints, saturation patrols and additional law enforcement on duty dedicated to impaired driving enforcement. Find more details about the campaign, including impaired driving enforcement plans, arrest totals and safety tips at HeatIsOnColorado.com. More information about DUI laws in Colorado can be found at NoDUIColorado.org. Learn more about CDOT's dedication to keeping Colorado roads safe, including impaired driving enforcement objectives, arrest data and safety information at codot.gov/safety.
About Click It or Ticket
Click It or Ticket is a nationwide campaign from National Highway Traffic Safety Administration (NHTSA). Since Click It or Ticket was introduced in Colorado in 2002, statewide seat belt use has increased from 72% to 86%. For more information about seat belt safety and enforcement citation numbers, visit SeatBeltsColorado.com.