The Heat Is On starts tomorrow - more than 700 DUI arrests reported during 2022 enforcement periods
June 9, 2022 - Statewide Traffic Safety - Impaired driving traffic fatalities rising this year
Statewide — The official start of summer is less than two weeks away. With more Coloradans out enjoying the season, the Colorado Department of Transportation, along with the Colorado State Patrol and local law enforcement will widen their surveillance for impaired drivers during the Summer Blitz DUI enforcement period from June 10-13.
Last year's Summer Blitz enforcement saw a total of 186 DUI arrests. The recent Memorial Day Weekend enforcement resulted in 125 arrests across 83 agencies, bringing the year to date total of enforcement period arrests to 704.
"Planning a safe and sober ride seems like an obvious step before a night out. Yet, it's an action that too many people fail to make," said Col. Matthew Packard, Chief of the Colorado State Patrol. "Year after year, the top causal factor our troops see when investigating fatal crashes is impaired driving. Make it your goal to never drive drunk or high before your irresponsibility catches up with you."
Preliminary 2022 crash data shows that 38% of all traffic fatalities this year have involved an impaired driver (94 out of 248) in Colorado. That's up from last year when 31% (74 out of 234) of fatalities involved an impaired driver. Pueblo (10), Adams (9), Denver (9), Arapahoe (8), and El Paso (8) counties have the highest number of fatal crashes involving impairment so far this year.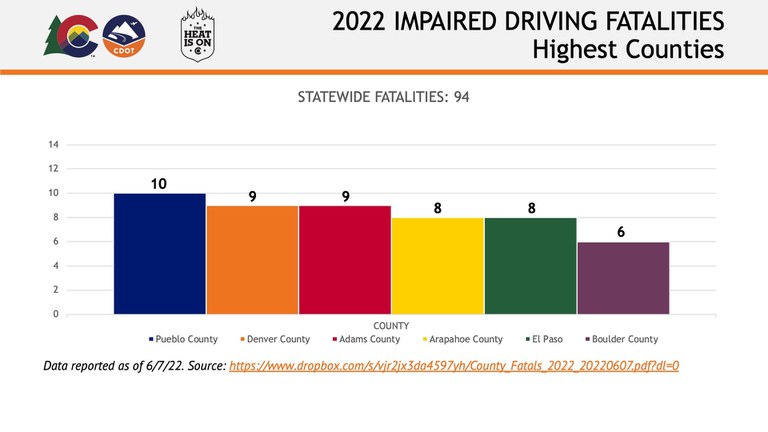 According to CDOT crash data, most fatal crashes happen Friday night after 10 p.m. during the summer. As summer 2022 approaches, CDOT reminds motorists that impairment by drugs or alcohol significantly increases the chances of being in a crash.
"Impaired drivers pose an extreme threat to Colorado roads and our entire transportation system," said CDOT's Office of Transportation Safety Director Darrell Lingk. "It takes both strict enforcement and outreach efforts to make our roads a safer place to drive — but the ultimate decision is in the hands of the motorist to never drive impaired."
Drivers may encounter saturation patrols, sobriety checkpoints, and additional law enforcement on duty dedicated to impaired driving enforcement. Local law enforcement agency plans can be found at codot.gov/safety/traffic-safety-reporting-portal.
For yearly impaired-driving crash and fatality data in Colorado, visit codot.gov/safety/traffic-safety/crash-data-management/fatal-crash-data. For trends involving impaired driving court cases, drug toxicology results and other impaired driving data, visit the Colorado Driving Under the Influence dashboard at https://ors.colorado.gov/ors-dui.
About The Heat is On
The CDOT Highway Safety Office provides funding to Colorado law enforcement for impaired driving enforcement, education and awareness campaigns. The Heat Is On campaign runs throughout the year, with 16 specific high-visibility impaired driving enforcement periods centered on national holidays and large public events. Enforcement periods can include sobriety checkpoints, saturation patrols and additional law enforcement on duty dedicated to impaired driving enforcement. Find more details about the campaign, including impaired driving enforcement plans, arrest totals and safety tips at HeatIsOnColorado.com. More information about DUI laws in Colorado can be found at NoDUIColorado.org. Learn more about CDOT's dedication to keeping Colorado roads safe, including impaired driving enforcement objectives, arrest data and safety information at codot.gov/safety.