US 285 to undergo resurfacing from Monte Vista to Saguache
June 14, 2022 - Southwestern Colorado - Motorists can expect 15 minute delays along the "Gun Barrel"
Monte Vista, Center and Saguache — The Colorado Department of Transportation and contracting partner United Companies will begin a resurfacing project in Saguache and Rio Grande Counties along US Highway 285. The project is scheduled to begin June 27 and will take place from the north side of the city of Monte Vista to the south side of the town of Saguache, the stretch of highway locally known as the "Gun Barrel." (Mile Points 52.4 to 86)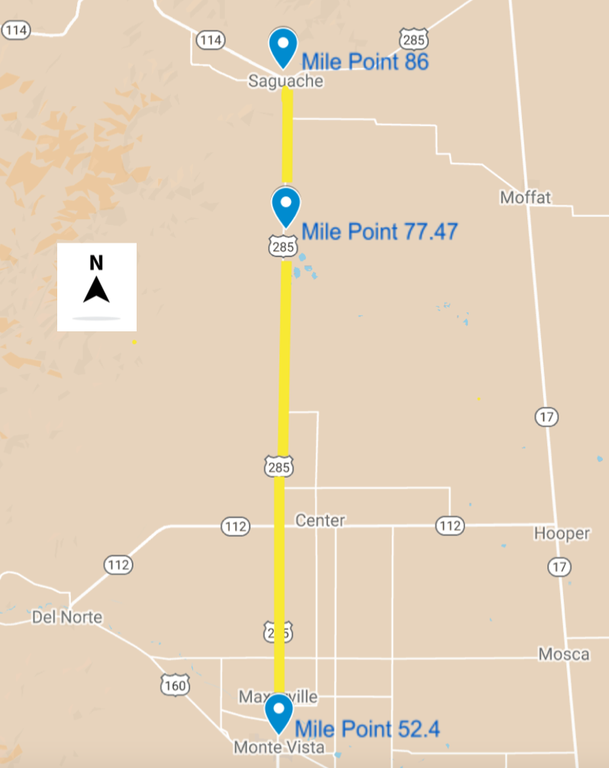 Project Background & Benefits
"The project will improve and prolong the life of the highway with the added benefit of safety for motorists," said CDOT Regional Transportation Director Julie Constan. "Chip sealing and micro-surfacing treatments will provide durability of a state asset, while enhancing safety for motorists by ensuring a smoother road surface and providing skid resistance."
Chip Seal
Chip sealing will occur from MP 52.4 just north of Monte Vista to MP 77.47. A chip seal is a two-step process which includes an application of asphalt emulsion, followed by a layer of crushed rock or chips. A few days after the chip seal has cured, a fog seal application is sprayed to further adhere and seal the rock chips to the surface. The process provides an effective moisture barrier for the underlying pavement against water intrusion by sealing cracks in the pavement.
Micro-Surface
Micro-surfacing will occur from MP 77.47 to MP 86 just south of Saguache. Micro-surfacing is a thin protective seal coat of asphalt emulsion which preserves the life of the existing pavement. The emulsion is blended with Portland cement and finely crushed stone. This one-step process typically cures within one hour after placement and is another cost-effective method of renewing the road surface by sealing minor cracks and other irregularities.
The project will also include the painting of new pavement markings.
Project Schedule and Travel Impacts
Work is scheduled to begin June 27 and is anticipated to last until mid September, weather-dependent.
Normal working hours will be Monday through Friday during daylight hours.
Vehicles will encounter single-lane, alternating north and southbound traffic intermittently throughout the duration of the project.
Lane closures, guided by flaggers and pilot cars, may have up to 15-minute delays.
The speed limit will be reduced to 40 mph through the work zone.
Speeds will continue to be reduced throughout the night immediately following the day's placement of chip seal to reduce the potential of flyrock while the chips embed into the emulsion.
Micro-surfacing requires about an hour to cure before traffic is allowed to drive on the fresh surface. Businesses and residents at adjacent accesses will be notified prior to the work and travelers from these access points will not be able to access the roadway until the micro-surfacing has cured. Property owners are urged to plan ahead.
Project Information
For additional information about this project:
Know Before You Go
Travelers are urged to "know before you go." Gather information about weather forecasts and anticipated travel impacts and current road conditions prior to hitting the road. CDOT resources include:
Remember: Slow For The Cone Zone
The following tips are to help you stay safe while traveling through maintenance and construction work zones.
Do not speed in work zones. Obey the posted speed limits.
Stay Alert! Expect the unexpected.
Watch for workers. Drive with caution.
Don't change lanes unnecessarily.
Avoid using mobile devices such as phones while driving in work zones.
Turn on headlights so that workers and other drivers can see you.
Be especially alert at night while driving in work zones.
Expect delays, especially during peak travel times.
Allow ample space between you and the car in front of you.
Anticipate lane shifts and merge when directed to do so.
Be patient!
Download the COtrip App!
The new FREE COtrip Planner mobile app was designed to meet the growing trend of information on mobile and tablet devices for the traveling public. The COtrip Planner app provides statewide, real-time traffic information, and works on mobile devices that operate on the iOS and Android platforms. Visit the Google Play Store (Android devices) or the Apple Store (iOS devices) to download!