US 40 to close for four months near Peoria and Deer Trail for bridge replacement on July 5
June 29, 2022 - Northeastern Colorado
Arapahoe County — The Colorado Department of Transportation will replace two timber bridges on U.S. Highway 40 near Peoria and Deer Trail starting in July. Full highway closures are necessary for bridge demolition and replacement.
The first bridge is located approximately one mile west of Peoria Road. The second bridge is located about one mile west of Ivy Street just outside of the Town of Deer Trail. Both bridges will be closed through October 2022. Access to the Richmil Ranch Open Space will be maintained from the west (Peoria).
Both bridges will be constructed at the same time. During full highway closures, local detour routes will be signed. For both locations, I-70 is the primary detour route. Message boards placed on US 40 will provide closure date information.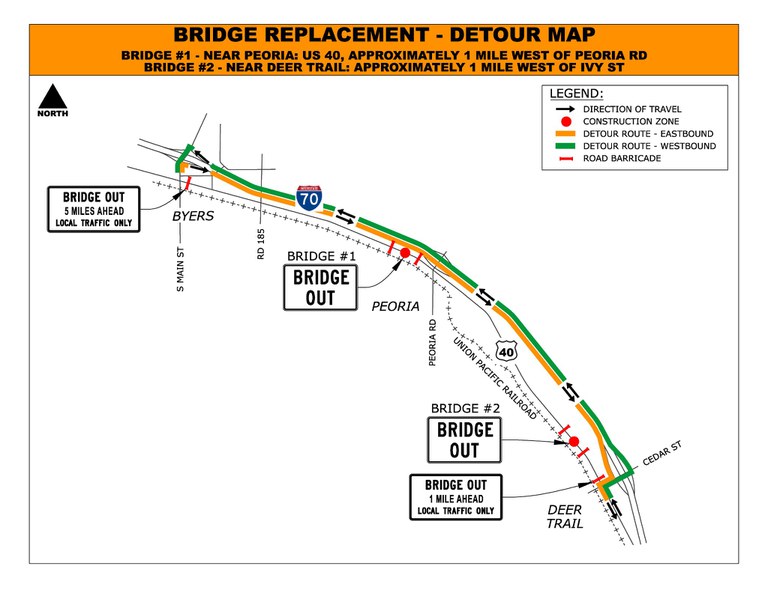 As part of the same project, a timber bridge on US 36 between Strasburg and Byers was recently replaced in addition to a bridge on US 40 near Agate. Both bridges are anticipated to reopen in July after the contractor completes asphalt paving and finishing work.
"Replacing these timber bridges is a priority for CDOT. All four bridges were constructed roughly 90 years ago. These timber structures are difficult to maintain and are beyond their useful life. As parallel corridors to I-70, the new bridges will be built to current standards and will improve safety and access for decades to come," said CDOT Region 4 Transportation Director Heather Paddock.
Project Background
Four timber bridges along I-70 frontage roads between Strasburg and Agate will be removed and replaced with concrete bridges. Roadway pavement on the bridge approaches will be reconstructed to raise the roadway profile. Shoulders will be widened to eight feet across each bridge. Other project work includes new guardrail, drainage improvements, access modifications, and upgraded signage and striping. Lawrence Construction will perform the work.
The four bridge locations are:
Between Strasburg and Byers: US 36 over a drainage, approximately two miles west of County Road 173 (Bradbury Road)
Near Peoria: US 40 over a drainage, approximately one mile west of Peoria Road
Near Deer Trail: US 40 over a drainage, approximately one mile west of Ivy Street
Near Agate: US 40 over Agate Creek, approximately one mile west of Main Street
General work hours are Monday through Friday from 7 a.m. to 5 p.m. with occasional extended hours and weekend work. Drivers should expect a full highway closure for each bridge replacement. Adjacent property access will be maintained on either side of the bridge work zone and signed detour routes will be provided.
Construction schedules are weather-dependent and subject to change. Weekly updates are available on the project web page.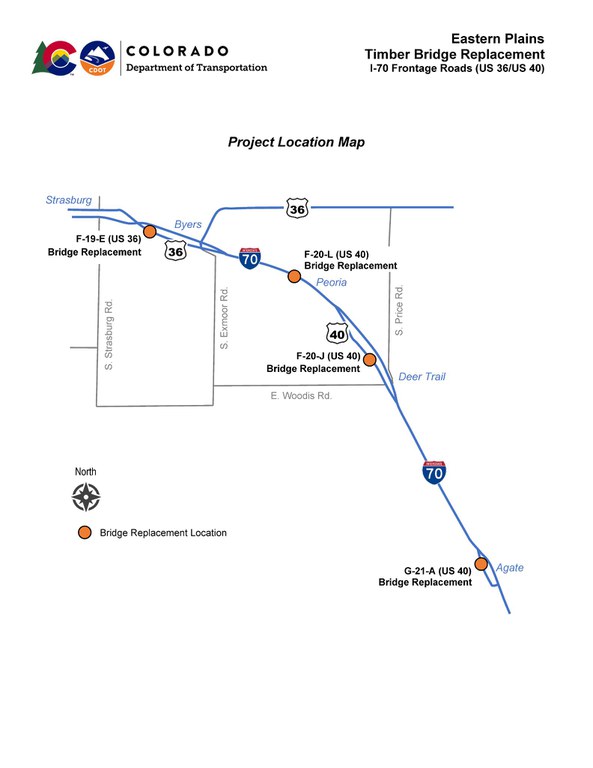 Project Contact Information
Know Before You Go
Travelers are urged to "know before you go." Gather information about weather forecasts and anticipated travel impacts and current road conditions prior to hitting the road. CDOT resources include:
Remember: Slow For The Cone Zone
The following tips are to help you stay safe while traveling through maintenance and construction work zones.
Do not speed in work zones. Obey the posted speed limits.
Stay Alert! Expect the unexpected.
Watch for workers. Drive with caution.
Don't change lanes unnecessarily.
Avoid using mobile devices such as phones while driving in work zones.
Turn on headlights so that workers and other drivers can see you.
Be especially alert at night while driving in work zones.
Expect delays, especially during peak travel times.
Allow ample space between you and the car in front of you.
Anticipate lane shifts and merge when directed to do so.
Be patient!
Download the COtrip App!
The new FREE COtrip Planner mobile app was designed to meet the growing trend of information on mobile and tablet devices for the traveling public. The COtrip Planner app provides statewide, real-time traffic information, and works on mobile devices that operate on the iOS and Android platforms. Visit the Google Play Store (Android devices) or the Apple Store (iOS devices) to download!