CDOT begins work on six southeast highways for stencil marking operations
May 18, 2022 - Southeastern Colorado
El Paso, Huerfano, Las Animas & Pueblo Counties - The Colorado Department of Transportation and prime contractor RoadSafe Traffic Systems, will begin stencil-marking work across six highways in southeastern Colorado on May 22. This project will focus on the removal and replacement of painted roadway symbols at various intersections, crosswalks, and turn pockets
The project work zones are spread across four separate counties. In El Paso County, the work zones will include Colorado State Highway 85 from Mile Post 127.92 to 137 and CO 16 from MP 0.0 to 3.08. Both of these zones are located in Fountain. In Pueblo County, the work zone includes CO 47 from MP 0.2 to 4.63 outside of downtown Pueblo. In Huerfano County, the work zone includes US Highway 160 from MP 295.5 to 305.2 in Walsenburg. Stretching across Huerfano and Las Animas County, the project work zone includes a 65-mile section of CO 12 from La Veta to Trinidad between MP 4.5 and 70.6. In Las Animas County, the work zone includes Interstate 25 from MP 1.2 to 3.8.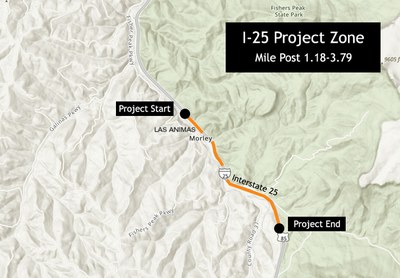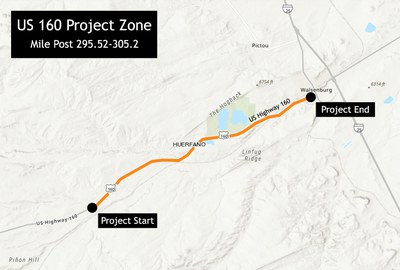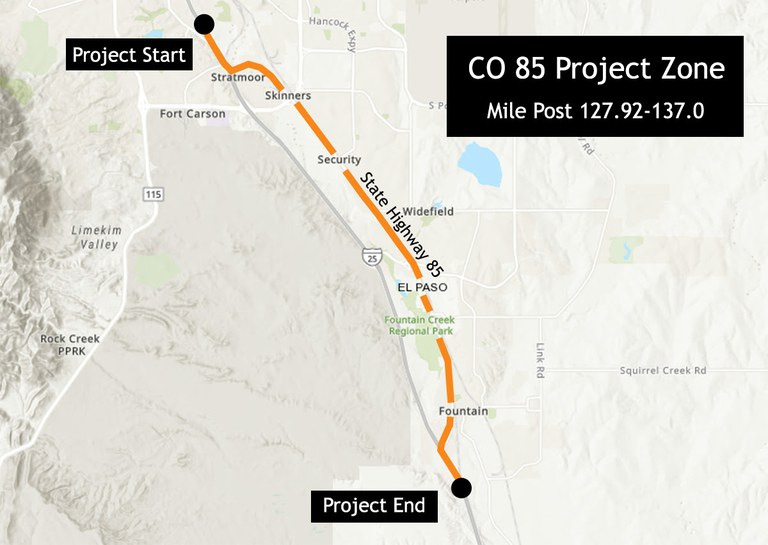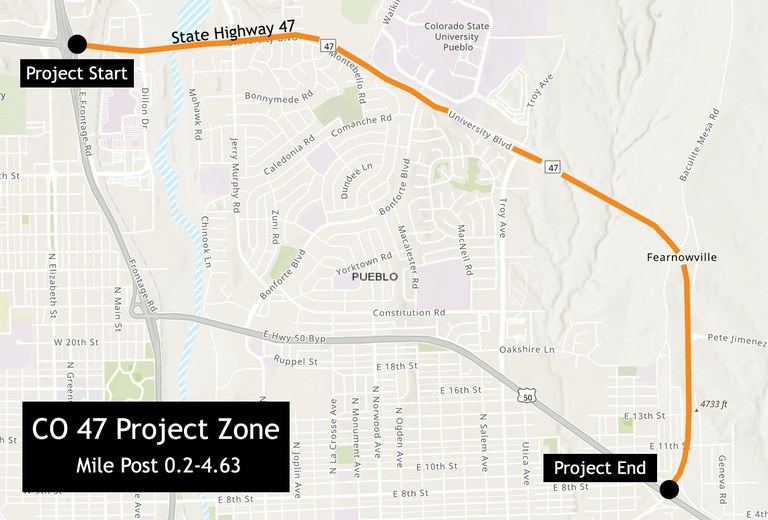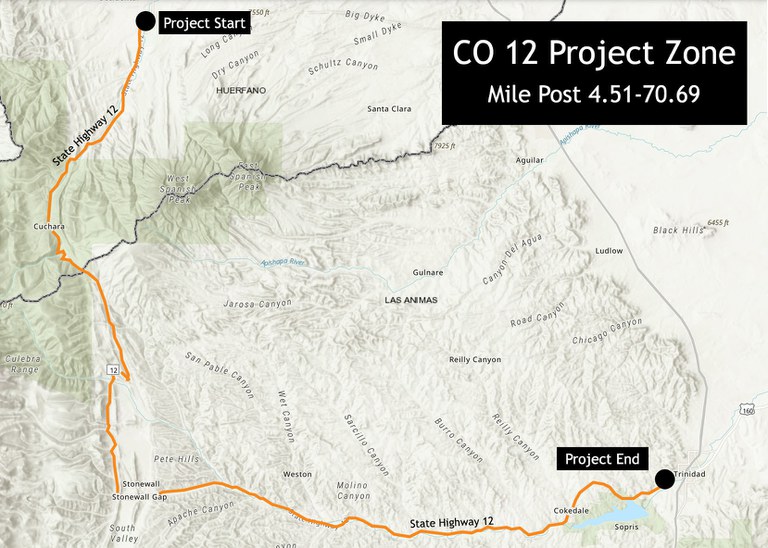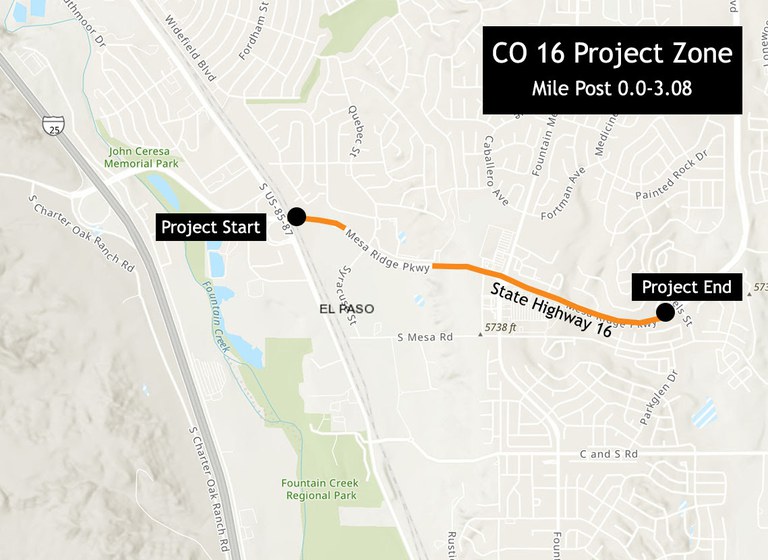 Traffic Impacts
Crews will be working only nighttime hours throughout the duration of the project. Work will occur Sunday through Thursday from 7:00 p.m. to 6:00 a.m. Single lane closures are expected intermittently in each project location with at least one through lane of traffic open at all times. These lane reductions may slow traffic, but are not anticipated to cause delays. The project is expected to last until mid-June. Please visit www.cotrip.org for real-time lane closure information, or signup for email notifications for project updates.
Project Information
For additional information about this project:
Know Before You Go
Travelers are urged to "know before you go." Gather information about weather forecasts and anticipated travel impacts and current road conditions prior to hitting the road. CDOT resources include:
Remember: Slow For The Cone Zone
The following tips are to help you stay safe while traveling through maintenance and construction work zones.
Do not speed in work zones. Obey the posted speed limits.

Stay Alert! Expect the unexpected.

Watch for workers. Drive with caution.

Don't change lanes unnecessarily.

Avoid using mobile devices such as phones while driving in work zones.

Turn on headlights so that workers and other drivers can see you.

Be especially alert at night while driving in work zones.

Expect delays, especially during peak travel times.

Allow ample space between you and the car in front of you.

Anticipate lane shifts and merge when directed to do so.

Be patient!
Download the COtrip App!
The new FREE COtrip Planner mobile app was designed to meet the growing trend of information on mobile and tablet devices for the traveling public. The COtrip Planner app provides statewide, real-time traffic information, and works on mobile devices that operate on the iOS and Android platforms. Visit the Google Play Store (Android devices) or the Apple Store (iOS devices) to download!