CDOT and local law enforcement spring into action with DUI patrols
April 6, 2023 - Statewide News - An average of 71 people are arrested for DUI every day in Colorado
Haga clic aquí para ver este comunicado de prensa CDOT y organismos de seguridad locales inician período de vigilancia de conductores afectados por alcohol o drogas en español.
Statewide — Spring is here and so is the opportunity to make way for new habits and leave impaired driving behind. CDOT, Colorado State Patrol (CSP) and 73 law enforcement agencies kick off their joint effort in keeping Colorado roads safe with the 18-day Spring Events enforcement period, April 7-24.
Last April, 31 people were killed in impaired driving related crashes. In total, 278 people were killed last year in such crashes.
Law enforcement is proactive in reducing DUI crashes through enforcement efforts. An average of 71 people are arrested each day for DUI in Colorado. A majority of these arrests happen before a crash occurs.
"We want our communities to enjoy the longer daylight hours and spring activities while also committing to designate a sober driver," said Col. Matthew C. Packard, chief of the Colorado State Patrol. "No one heads out thinking that today a DUI or a crash is going to happen to me. Make a plan to get home safe, it's worth the effort."
A 2022 driving behavior survey showed that about one out of five Colorado drivers said they drove within two hours of drinking alcoholic beverages. A recent CSP report shows that, on average, 5,500 impaired-driving citations were given yearly from 2 to 6 p.m. - they typical happy hour at many bars.
"If you're planning to consume alcohol or marijuana, driving shouldn't be an option," said CDOT's Office of Transportation Safety Director Darrell Lingk. "Getting behind the wheel while impaired can mean the difference between making it home alive or not at all. Have a designated driver or a sober ride planned before you head to your destination."
The recent St. Patrick's Day Weekend enforcement period concluded with 247 DUI arrests across 78 participating agencies. The agencies with the highest number of arrests were Colorado Springs Police Department (25), Thornton Police Department (14) and Larimer County Sheriff's Office (13). CSP arrested 64 impaired drivers.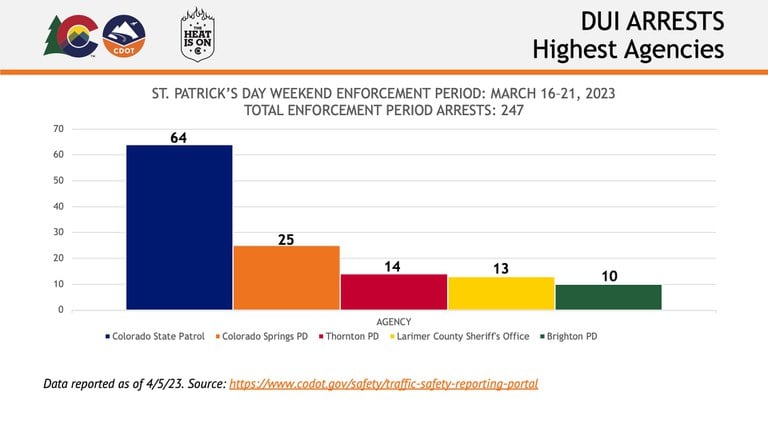 For yearly impaired driving crash and fatality data in Colorado, visit codot.gov/safety/traffic-safety/data-analysis/fatal-crash-data. For local law enforcement agency plans, visit codot.gov/safety/traffic-safety-reporting-portal.
About The Heat Is On
The CDOT Highway Safety Office provides funding to Colorado law enforcement for impaired driving enforcement, education and awareness campaigns. The Heat Is On campaign runs throughout the year, with 16 specific high-visibility impaired driving enforcement periods centered on national holidays and large public events. Enforcement periods can include sobriety checkpoints, saturation patrols and additional law enforcement on duty dedicated to impaired driving enforcement. Find more details about the campaign, including impaired driving enforcement plans, arrest totals and safety tips at HeatIsOnColorado.com. More information about DUI laws in Colorado can be found at NoDUIColorado.org. Learn more about CDOT's dedication to keeping Colorado roads safe, including impaired driving enforcement objectives, arrest data and safety information at codot.gov/safety.