Treacherous mountain driving conditions and front range impacts expected with upcoming storm
February 21, 2021 - Statewide News - Drivers are urged to check the forecast and COtrip.org before traveling
Colorado - Starting tonight, Feb. 21, western Colorado will experience heavy snow and strong winds that will carry to the central and northeastern regions of the state through Thursday. The Colorado Department of Transportation crews are prepared to meet the demands of this storm that will cause extreme impacts to various areas throughout the state. Gusty winds will lead to widespread blowing and drifting snow at higher elevations and cause significant disruptions over the mountain corridors in the San Juans, Grand Mesa, Roan/Book Cliffs, and Elk Mountains through Wednesday. These areas will measure storm totals in feet, while lighter accumulations are expected further east towards places like Vail, Monarch Pass and the Eisenhower-Johnson Memorial Tunnels (EJMT) area. Communities in the northern Denver metro area up through Fort Collins and Greeley will likely see impactful accumulations that also interfere with Wednesday morning and afternoon commutes.
Blowing snow and poor visibility caused by high winds will pose a significant hazard to motorists. Due to the extreme impacts forecasted in parts of western Colorado, travelers are urged to avoid travel. Those who are not prepared for winter driving conditions may run the risk of becoming stranded. Wyoming will also face extreme weather, which may result in interstate closures. Motorists are urged to not detour through Colorado to avoid these closures.
Commercial motor vehicle drivers and passenger car motorists are strongly urged to drive for the conditions if travel is unavoidable in these impacted regions. Colorado State Patrol Troopers from Frisco, Vail and Glenwood Springs will conduct high visibility surge enforcement operations along I-70 near the EJMT, Dowd Canyon, Vail Pass and Glenwood Canyon on Wednesday, Feb. 22 to help prevent property damage, injury, and fatal crashes in these areas and avoid road closures.
CDOT crews will be out 24/7 clearing roads beginning with interstates and the most heavily traveled routes first during the storm. Once the storm has tapered off, they will plow the state maintained secondary routes. Cities and counties are responsible for clearing local and residential roads - not CDOT.
Drivers are urged to "know before you go", check road conditions on COtrip.org, and stay on top of the latest forecast information as the winter weather evolves.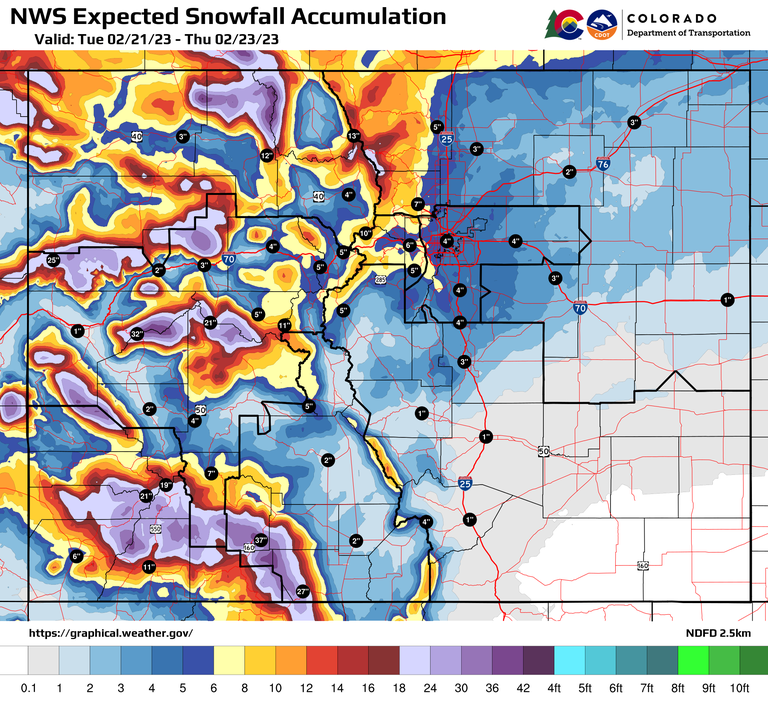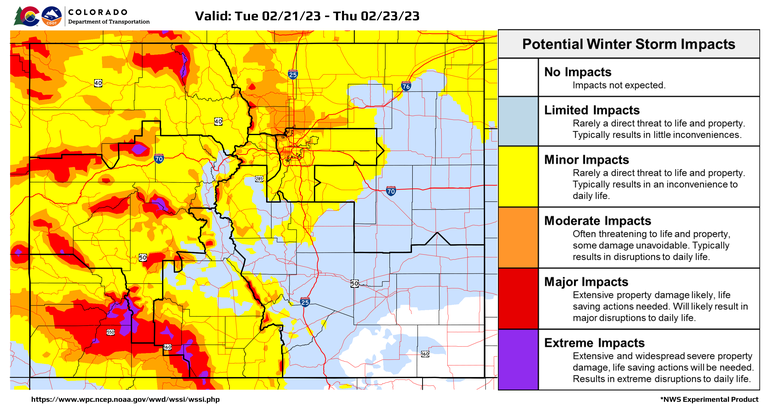 Regional Outlooks
Denver Region and the I-70 Mountain Corridor east of the Eisenhower-Johnson Memorial Tunnel (EJMT)
The storm moves in Wednesday in the Denver region and could make for a difficult evening commute with slick road conditions. The metro area could see three to six inches of snow with the heaviest impacts north of the metro area and along the northern foothills. CDOT crews in the metro area started snow shifts Tuesday afternoon and will continue to be out in force preparing for and responding to the storm.
Snow and blowing snow beginning early Wednesday morning and lasting through Wednesday night along the I-70 Mountain Corridor from Golden to the Eisenhower-Johnson Memorial Tunnel. Snow will fall up to an inch an hour with heavier bursts possible Wednesday afternoon. Motorists must be prepared for adverse weather conditions, including having the appropriate tires and an emergency kit should there be closures. While CDOT plows will be clearing snow, road conditions will be slick. CDOT crews along the mountain corridor have been in snow shift for much of the winter season.
I-70 Mountain Corridor and Northwest Colorado
Winds and heavy snow are anticipated across the high country. Snow in NW Colorado will be the most intense on mountain passes, including the I-70 Mountain Corridor, US 40 Rabbit Ears Pass, CO 133 McClure Pass, CO 65 Grand Mesa and CO 139 Douglas Pass. Motorists should anticipate safety closures for winter maintenance operations.
Southeast Colorado
Over the plains snowfall will be less but will fall very quickly, limiting passability on highways.
Wind-driven snow will be possible along the plains leading to poor visibility and very dangerous travel conditions.
High winds will make travel difficult, especially for high profile and commercial vehicles. Safety closures along I-25 due to high winds may be possible.
Southwest & South-Central Colorado
Heavy snow and blowing snow is expected. Snow accumulations of 10-20 inches, and even higher amounts of over two feet are possible, in the southern San Juans. High winds will gust up to 55-65 mph at times.
Travel will be very difficult if not impossible. Snow and blowing snow will significantly reduce visibility. Near whiteout conditions are likely due to snow and blowing snow.
Travelers should be aware that snow conditions will require additional maintenance work, winter snow operations and safety closures at any time on many southwest Colorado highways.
Northeast Colorado
The Wednesday morning commute will likely be affected for places like Boulder, Fort Collins and Greely. A noteworthy surge in the storm is expected to hit this area again Wednesday afternoon, causing disruptions to the evening commute.
Motorists are urged to telework, if possible in these areas.
Gusty winds will likely support areas of blowing snow, while plummeting temperatures increase the risk for a refreeze of previously-wet pavement. Conditions will improve quickly Thursday night, with most of the snow ending by midnight.
Additionally, the storm is expected to greatly impact Wyoming, which may result in interstate closures. Motorists should plan ahead and avoid travel to Wyoming during this storm.
What motorists should know
Avoid or limit driving during the brunt of the storm. Many areas of the state will experience pavement impacts and blowing snow due to strong winds.
Work from home if you can.
If you plan to travel, know before you go by checking out the latest weather conditions and visiting COtrip.org for road conditions (see info sources below).
Make sure your vehicle is winter ready with the appropriate tires for the weather and have a snow emergency kit.
Once you are out on the road, take it slow, no sudden stops and leave plenty of following distance.
Give plows space! Stay back three to four car lengths from snow plows.
Safety closures
A safety closure is a precaution taken during inclement weather to reduce the probability of traffic incidents, increased congestion or other safety-related factors. During a safety closure, traffic may be stopped on the interstate, turned around or directed to an exit. Safety closures help decrease delay times, and, above all, keep travelers safe.
Chain and Traction Laws
When weather conditions warrant, CDOT will activate the Traction Law. If weather conditions deteriorate, CDOT will activate Chain Laws for passenger and commercial vehicles. Motorists will be alerted to an active Traction or Chain Law by highway signage, COtrip.org and traffic/roadway condition alerts. For more information on the Traction Law and Passenger Vehicle Chain Law requirements, visit codot.gov/travel/winter-driving/tractionlaw. For more information on the Commercial Vehicle Chain Law requirements, visit codot.gov/travel/colorado-chain-law. To learn more and view helpful tips for winter driving, visit winter.codot.gov.
COtrip.org and COtrip Planner app
If motorists must head out during this winter storm, they are urged to visit COtrip.org and download the COtrip Planner app ahead of time. Motorists are now able to sign up for travel alerts through COtrip.org to see if there are any highway closures or impacts along their favorite routes. The COtrip Planner app also offers a "Trip Planner" feature that allows motorists to map out their routes and receive updates about road closures or incidents along the way. Motorists can turn on the "Hands-Free, Eyes Free" feature to receive these alerts via voice notifications and avoid routes with impacts. Visit the Google Play Store (Android devices) or the Apple Store (iOS devices) to download!
Know Before You Go
Travelers are urged to "know before you go." Gather information about weather forecasts and anticipated travel impacts and current road conditions prior to hitting the road. CDOT resources include: