Protecting water quality is an important part of the transportation planning process. CDOT has a process to consider and plan for all new highways or highway expansions. Water quality impacts are considered during several steps in the process. Depending on the extent of the project, one of several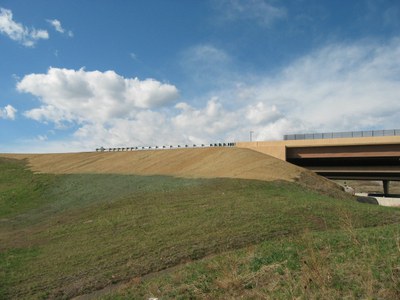 levels of environmental analysis can be conducted-categorical exclusion, environmental assessment, and environmental impact statement. Potential for impacts to water quality is evaluated in each type of environmental analysis. Click here to learn more about CDOT's environmental analysis process. CDOT develops a stormwater management plan (SWMP) during the planning phase of a project. SWMPs help the construction site team protect water quality. SWMPs contain site information; BMP locations, narratives, and details; and other important information. CDOT has several documents that help their engineers design successful temporary and permanent BMPs to protect water quality.
Revision to SWMP Design Bulletin
M and S Standard Plans for Construction BMPs
Standard Specifications for Road & Bridge Construction
If the construction site will disturb one acre or more, CDOT will request a permit from CDPHE. CDPHE's stormwater construction permit also requires the development and implementation of a SWMP. CDOT's Water Quality Program and CDPHE's permit requirements ensure that CDOT construction sites minimize contribution to stormwater pollution. Once the project is planned and designed it moves to the construction phase.