Background
In 2015, a detailed site selection process was conducted by the Colorado Division of Aeronautics and the Federal Aviation Administration (FAA) NextGen Office to determine the most suitable Colorado airport facility to test and assess remote air traffic control technology. The site selection process considered a varying range of criteria:
Airspace type
Existing airport infrastructure and runway configuration
Existing airport surface radar coverage.  
Daily aircraft operation levels
Aircraft traffic mix
Accessibility to a surrounding major airport
Local stakeholder support
As a result of the selection process, the Northern Colorado Regional Airport located in Loveland, Colorado was ultimately chosen as the initial test facility because of these factors, as well as its close proximity to the Federal Approach and Air Route Traffic Control Centers located in Longmont, Colorado.

 About the Airport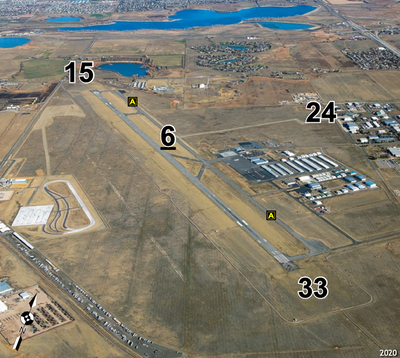 The Northern Colorado Regional Airport (FNL) was constructed in 1963 through a federal grant program and is jointly owned and operated by the cities of Fort Collins and Loveland. FNL is one of 14 Colorado airports providing commercial air service, and it serves as a northern regional gateway for commerce and emergency access. According to data collected by the Federal Aviation Administration, the Northern Colorado Regional Airport is the state's busiest airport without an air traffic control tower. 
FNL is situated on just over 1,000 acres located approximately 9 miles southeast of Fort Collins, 5 miles northeast of Loveland, and 50 miles north of downtown Denver.  Boyd Lake State Park lies just west of the airport, with close and convenient access to Interstate 25.
The Northern Colorado Regional Airport has a two-runway configuration with an 8,500 foot long, 100' wide main runway (15/33), and one crosswind runway (6/24). The main runway has a full-length parallel taxiway (A) with five taxiway connectors leading to a commercial service and general aviation aircraft apron.
The airport serves a wide variety of users ranging from privately-owned aircraft, commercial airliners, military aircraft, pilot training, and helicopters. The airport is home to three flight schools, specialized aircraft maintenance services, and a 24/7 Fixed Base Operator (FBO). 
 Airport Capacity

Northern Colorado is one of the most rapidly developing regions of the state, with populations for the area expected to more than double by the year 2050*. A growing population of this magnitude will result in increased demand for all modes of transportation, including air transportation. The Colorado Remote Tower Project is a proactive measure designed to address the future increase in aircraft operations at FNL with dramatically reduced costs compared to constructing, maintaining and staffing a physical air traffic control tower.
*Sources: Colorado Division of Local Affairs and State Demography Office.
Based Aircraft
The Northern Colorado Regional Airport has a total of nearly 265 based aircraft.
Over 126 aircraft were displaced following the closure of Downtown Fort Collins Airport in 2007.  Many of these aircraft were relocated at FNL.
The Greeley-Weld County Airport is the only other public-use general aviation airport of this size in northern Colorado.
Aircraft Traffic Mix & Volume
Aircraft operating at FNL range from slower small single piston aircraft and helicopters, to faster multi-engine turboprops and jets, to 150 passenger airliners. 
Aircraft traffic volumes at FNL total approximately 85,000 to 95,000 takeoffs and landings per year.
Economic Impact

Commercial and general aviation airports are a major catalyst to economic development for Colorado's communities. Each of Colorado's airports, from the smallest to the largest, contributes to the state's economy and the quality of life enjoyed by Colorado's businesses, residents and visitors.  In fact, Colorado Airports are directly and indirectly responsible for generating nearly $48.6 billion in business revenues, over 345,000 jobs, and $16.2 billion in annual payroll*.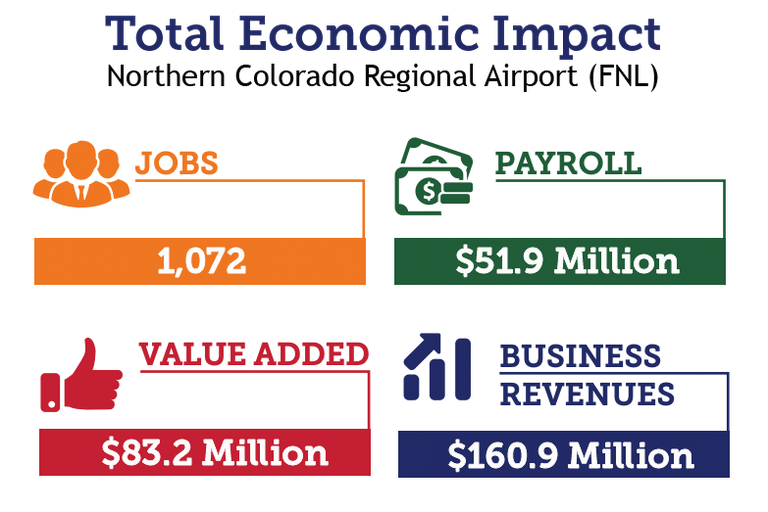 The Northern Colorado Regional Airport is no exception to the rule. According to a 2020 study, FNL was found to produce over $161 million in business revenues and supported 1,072 jobs that generated nearly $52 million in employee payroll**.  
*Source: 2020 Economic Impact Study for Colorado Airports - Colorado Division of Aeronautics.

**Source: FNL Annual Economic Impact on the Local Economy, 2020 Economic Impact Study for Colorado Airports - Colorado Division of Aeronautics.