I-25 Central Planning and Environmental Linkages (PEL) Study
I-25 in the study area has the highest average daily traffic in all of Colorado (272,000 in 2015).
(Source: CDOT traffic data)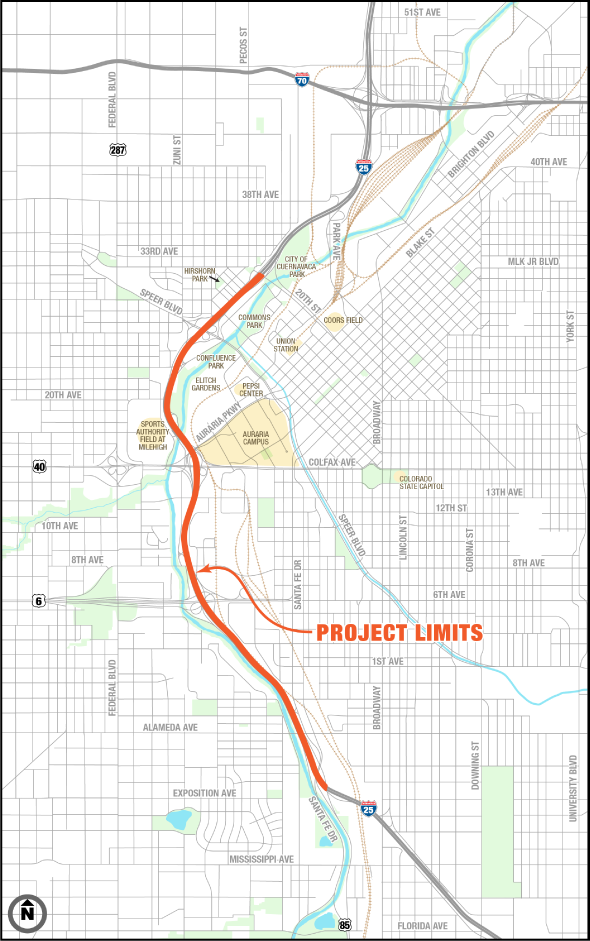 CDOT is conducting a Planning and Environmental Linkages (PEL) Study of I-25 between Santa Fe Drive and 20th Street. This 4.5-mile segment of I-25 is Colorado's primary urban transportation core. It is utilized for trips through the area and to regional and local connections, including downtown Denver employment, commerce, entertainment, and residences.
The study is identifying causes of congestion and consider options to improve travel time and reliability in this highly-congested corridor. A range of improvements are being evaluated and prioritized for future project development. The study also includes the evaluation of environmental impacts, coordination with federal, state, and local agencies, and public involvement.

"The study is developing a vision
for this 4.5-mile section of I25, using future traffic projections
that reflect anticipated growth
and possible advances in technology"


This PEL study includes:
Identification of corridor needs and a corridor vision




Development of efficient and cost-effective solutions and environmental stewardship




Evaluation of potential improvement projects




Development and prioritization of an implementation plan for potential projects



Upon completion of the PEL study, we will have a clear understanding of the transportation problems in the corridor, a collaboratively-developed vision for the future, and potential projects to implement that vision. The study conclusions will aid the development of future projects through the National Environmental Policy Act (NEPA) and design processes.