I-25 South Gap hosts telephone townhall this week
September 15, 2020 - Central/Southeastern Colorado - Five-mile section of 18-mile project to be complete this November
DOUGLAS/EL PASO COUNTIES— This month, the Colorado Department of Transportation and contractor partner, Kraemer North America, mark two years of construction on the 18-mile I-25 South Gap project, which will increase safety and mobility through the delivery of Express Lanes, wider shoulders, new bridges, wildlife crossings and improved technology. The entire project remains on schedule to conclude in 2022. 
Telephone Townhall
On Thursday, Sept. 17, at 6:30 p.m., CDOT, Colorado State Patrol and Kraemer North America will host a telephone townhall to discuss major project milestones, upcoming work, and work zone safety. Project experts will be on hand to answer questions from the public. An automated system will call residents throughout the project corridor at random to participate. Those who don't receive a call but want to join can call toll free, 855-710-6230.
Most notably, five miles of the project, between Plum Creek Parkway and Sky View Lane (Tomah Road), will be completed this fall. Once complete, the roadway will function in a temporary alignment with the planned Express Lanes and inside shoulders operating solely as 27-foot emergency access shoulders. Motorists may use the two, 12-foot general purpose lanes in either direction of this section of roadway. Once the entire 18-mile project is complete in 2022, the new lanes will open as an Express Lane in each direction.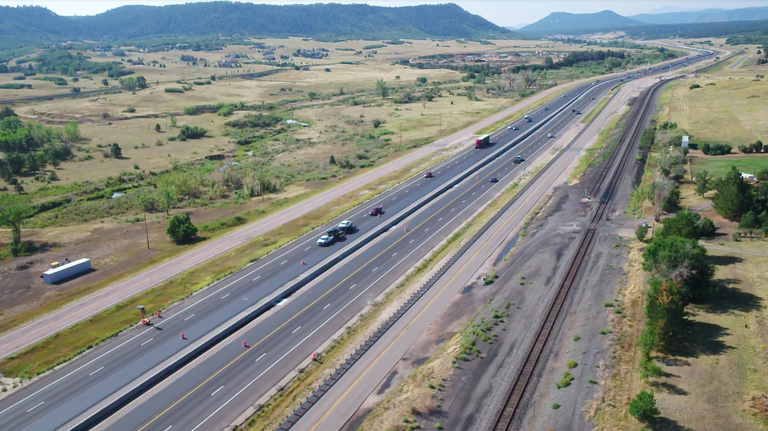 Additional progress includes:
Project promise

Progress as of September 2020

Updated infrastructure: Five bridges will be reconstructed as part of the I-25 South Gap project.

From north to south:

- The Spruce Mountain Road bridge is 95% complete

- The Upper Lake Gulch Road bridge is 25% complete

- The bridge over Plum Creek is 50% complete

- Greenland Road interchange is about 50% complete 

- Reconstruction of the County Line Road bridge was added to the project last year. Design is underway, and construction is expected to begin in 2021.  

Update infrastructure: Removal and installation of new drainage pipes throughout the project work zone.

Completed 7 miles of drainage pipe installation 

Wildlife safety: Four new wildlife underpasses are being built to reduce animal/vehicle collisions along the I-25 South Gap corridor. These full-span bridges were designed in partnership with the Colorado Division of Wildlife specifically to accommodate animal crossing. 

- All four bridges are under construction and nearing completion

- 14 miles of 27 miles total of deer fencing, which helps guide wildlife to the crossings, has been installed

Smoother driving surface: The entire 18-mile project area will get new pavement. The project will use 850,000 tons of asphalt.

Summer 2020 has been the season of paving on the I-25 South Gap project. More than 40% of paving (350,000 tons) is set to be complete in summer 2020. 

Advanced technology: Crews are working to modernize communications and power along the corridor to enable future advanced technology. Part of this advanced technology comes in the form of new fiber-optic cable. 

Crews have relocated nearly 90,000 linear feet of existing fiber-optic line that was beneath I-25.
Stay Informed 
Project Hotline: 720-745-5434
Web: i25gap.codot.gov
Sign up for email updates: [email protected]
Text alerts: Text I25GAP to 21000
Project Facebook Page: Facebook.com/I25SouthGapProject
For current travel information and updates, visit cotrip.org.
About the Project
CDOT is improving 18 miles of I-25 between Monument and Castle Rock by widening the highway from two to three lanes in each direction. The new lane will operate as an Express Lane, allowing motorists the choice of taking the Express Lane for a faster, more reliable travel time in exchange for a toll. Express Lanes will be free to vehicles with three or more people and motorcycles. All travelers will have the choice of taking the general-purpose lanes for free.
The project also includes shoulder widening, rebuilding bridges, new wildlife crossings, resurfacing with new pavement and modernizing technology. Project completion is scheduled for 2022.