CO 141 bridge rehabilitation and improvements to begin May 23
Montrose County — The Colorado Department of Transportation will begin a bridge rehabilitation project next week on May 23. Work will take place along Colorado Highway 141, between Naturita and Gateway. KSK, LLC, of Grand Junction, is the contractor for this project.
The project will take place over a five-month period at three bridge structure locations along CO 141:
over Naturita Creek, near the community of Naturita - Mile Point 59
over the San Miguel River, approximately 14 miles north of Naturita - MP 74
over the Dolores River, approximately 28 miles north of Naturita - MP 88.5
The project is part of CDOT's Bridge Preventative Maintenance Program to extend the service life of bridges and other major structures that the state maintains.
"Functionally, the bridges require upgrades to safely and efficiently handle the volume or weight of traffic they receive each day," said CDOT's Regional Transportation Director, Julie Constan. "These improvements are essential to ensure motorists can travel safely and reliably through the area for years to come."
The project will include restoring bridge deck integrity, waterproofing, resurfacing, and pavement markings along these three locations of CO 141, to enhance safety and mobility for the traveling public by restoring the integrity of the bridge.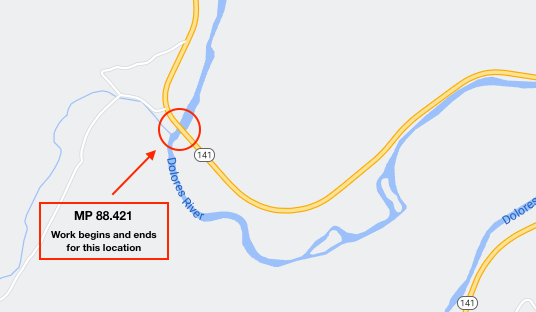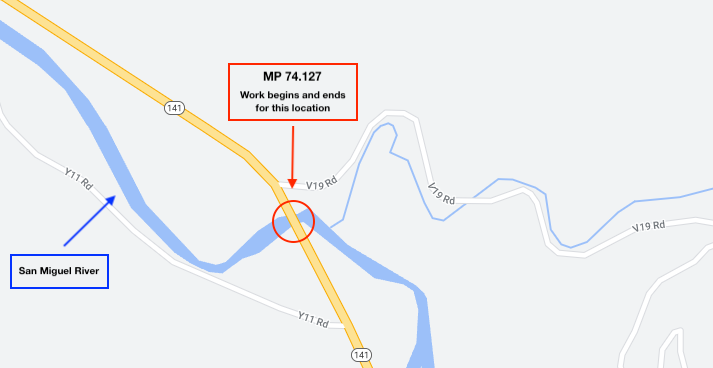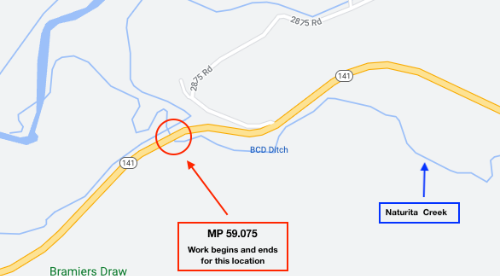 Travel Impacts
Daytime work hours range from 7 a.m. to 7 p.m. Monday through Friday. Vehicles will encounter single-lane, alternating traffic intermittently in either direction, and the use of portable light signals will be prominent throughout the duration of the project. These lane closures may have up to 15-minute delays. The speed limit will be reduced to 40 mph through the work zone. The project is expected to last until the end of September.
Project Information
For additional information about this project, contact the project team:
Know Before You Go
Travelers are urged to "know before you go." Gather information about weather forecasts, anticipated travel impacts, and current road conditions prior to hitting the road. CDOT resources include:
Road conditions and travel information: COtrip.org
Download the FREE COtrip Planner app: bit.ly/3DYCDOH
Sign up for project or travel alerts: bit.ly/COalerts
See scheduled construction lane closures: bit.ly/3n9ZAI1
Connect with @ColoradoDOT on social media: Twitter, Facebook, Instagram and YouTube.