Crews back to work on highway surface treatment on CO 64 and US 40
May 19, 2022 - Northwestern Colorado - Work resumes in Rio Blanco and Moffat Counties
Moffat & Rio Blanco Counties — The Colorado Department of Transportation has restarted work on Colorado Highway 64 and US Highway 40. Crews returned after the planned winter shutdown for the highway surface treatment and upgrade project. During the 2021 construction season, crews worked on overlay on both roadways, pavement markings and bringing guardrails up to new standards.
Motorists can expect increased oversize/overweight truck traffic on these routes:
US 40 between Craig and Dinosaur
Deserado Mine Road
CO 64 between Rangely and Meeker
There will also be asphalt milling in and around the Town of Dinosaur. Motorists should watch for trucks, heavy equipment and construction workers entering the roadway along Brontosaurus Boulevard.
Motorists should be especially cautious on CO 64 between Mile Points 28 and 30, where trucks will be making wide turns onto the highway. Please drive at or below the posted speed limit. Pay close attention to "Trucks Turning Today" flashing message boards, which are updated daily.
Traffic Impacts
Daytime work hours range from 7 a.m. to 7 p.m. Monday through Friday. Motorists should expect some travel impacts throughout the construction of this project and be aware of lane closures, alternating single lanes, flaggers and width restrictions of 10 feet on CO 64 and 12 feet on US 40 will be in place 24 hours a day. The speed limit will be reduced to 45 mph through the work zone. The project is expected to last until the end of June 2022.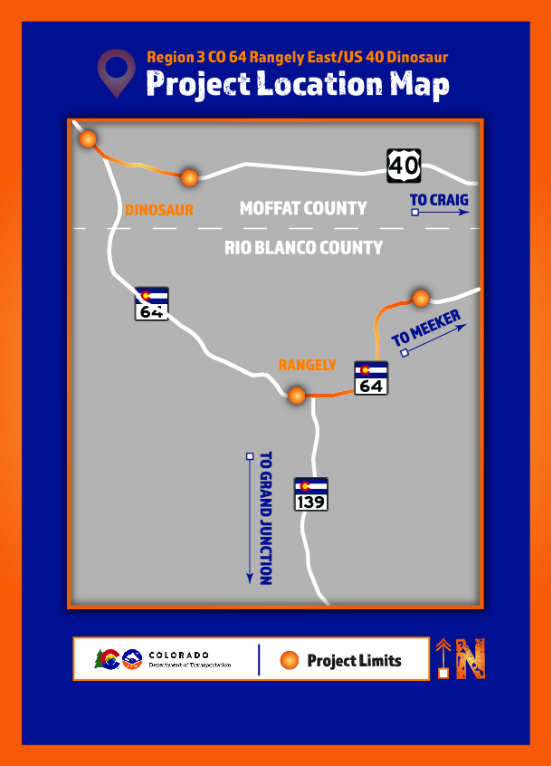 Project Information
For additional information about this project:
Call the project information line at 970-601-1118
Email the project team at:

[email protected]

Visit the project website at: codot.gov/projects/co64-us40-resurfacing-rioblanco-moffat


Know Before You Go

Travelers are urged to "know before you go." Gather information about weather forecasts and anticipated travel impacts and current road conditions prior to hitting the road. CDOT resources include:

Remember: Slow For The Cone Zone

The following tips are to help you stay safe while traveling through maintenance and construction work zones.

Do not speed in work zones. Obey the posted speed limits.

Stay Alert! Expect the unexpected.

Watch for workers. Drive with caution.

Don't change lanes unnecessarily.

Avoid using mobile devices such as phones while driving in work zones.

Turn on headlights so that workers and other drivers can see you.

Be especially alert at night while driving in work zones.

Expect delays, especially during peak travel times.

Allow ample space between you and the car in front of you.

Anticipate lane shifts and merge when directed to do so.

Be patient!

Download the COtrip App!

The new FREE COtrip Planner mobile app was designed to meet the growing trend of information on mobile and tablet devices for the traveling public. The COtrip Planner app provides statewide, real-time traffic information, and works on mobile devices that operate on the iOS and Android platforms. Visit the Google Play Store (Android devices) or the Apple Store (iOS devices) to download!