CDOT, partner agencies celebrate two projects in Summit County Events highlight I-70 Frisco to Silverthorne Auxiliary Lane project and completion of CO 9 Iron Springs to Frisco improvements
May 17, 2022 - Northwestern Colorado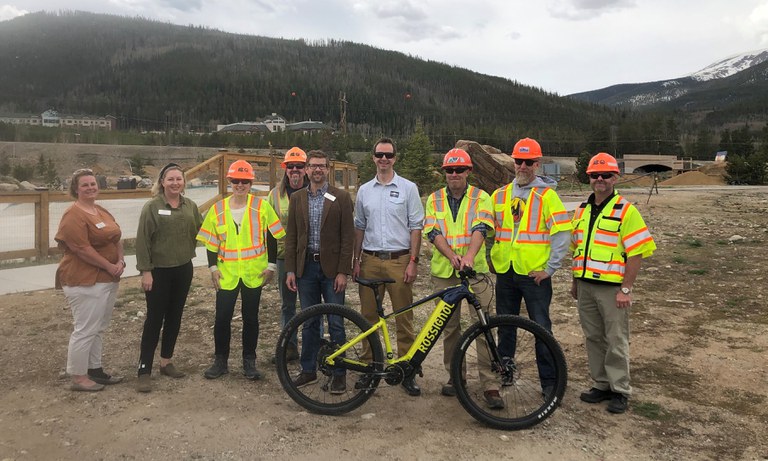 Summit County - Representatives from the Colorado Department of Transportation, Summit County Government and partner agencies gathered Monday, May 16, to celebrate the beginning of the I-70 Frisco to Silverthorne Aux Lane project and the completion of the Colorado Highway 9 Widening from Iron Springs to Frisco ("Gap Project"). 
Agency representatives first gave spoken remarks about the I-70 Frisco to Silverthorne Auxiliary Lane project, while gathered at the eastbound I-70 scenic overlook. The project began this spring and will significantly improve safety on this very busy section of Interstate 70 in the heart of Summit County.
"This project complements several other safety improvement projects this summer, located from Frisco extending east to the Eisenhower Johnson Memorial Tunnels," said CDOT Executive Director Shoshana Lew. "Those are the Silverthorne to Eisenhower Tunnel resurfacing, the I-70 Structure Replacement West of Eisenhower Tunnel, and the Eisenhower Tunnel Infrastructure Upgrades."
"The project is one of many we've seen in several years that demonstrates the state's commitment to support for the corridor," said Ryan Hyland, Chair of the I-70 Coalition, while noting improvements to Vail Pass and Floyd Hill. "On behalf of the I-70 Coalition membership, I want to thank everyone who's been involved in the planning and funding for this project." Hyland is also Town Manager for the Town of Silverthorne.
By completion next year (2023), crews will have completed a new auxiliary lane from just west of Frisco to just east of Silverthorne. The high crash rate for this section of I-70 causes delays for emergency response and partial interstate closures. For example, frequent interstate closures during inclement weather at Exit 205 can back traffic to the west toward Exit 203.
"Safety improvements are critical to Summit County communities," said Summit County Commissioner Tamara Pogue. "Reducing closures—or reducing the length of closures—is an important part of those improvements. I would also like to thank CDOT for considering equitable access and multimodal transportation as part of the work to improve I-70 on the mountain corridor."
The project began this spring, with the first round of improvements taking place underneath I-70 on Colorado Highway 9 and US Highway 6.
"Traffic impacts before early July will be the greatest at the exit 205 interchange (Silverthorne) with US Highway 6 and Colorado Highway 9 (Blue River Parkway)," said CDOT Program East Engineer Rob Beck. "As part of the preparation for the auxiliary lane, work also includes widening of I-70 the road in the construction zone, repaving eastbound lanes in the construction zone and restriping, widening of bridges over US 6 and the Blue River." Improvements also include upgrades to drainage, deer fencing in both directions of I-70 (Mile Points 203 to 205), additional parking for passenger vehicles and CMV at the eastbound scenic overlook. The project will provide improved safety for the exit 205 off-ramp with a longer deceleration lane, and improved signage for the US 6 Loveland pass route."
The I-70 Frisco to Silverthorne Auxiliary Lane project is included in the recently released Summer 2022 planning guide.
On Monday morning, CDOT and local agency representatives also gathered at the Frisco Adventure Park Day Lodge to celebrate the completion of the Colorado Highway 9 Widening from Iron Springs to Frisco ("Gap Project").
"This has been a twenty-year effort to modernize the busy route between Frisco and Breckenridge," said CDOT Region 3 Transportation Director Jason Smith, "in order to move vehicles through the area efficiently, as well as improve access and safety for pedestrians and bicyclists. As a result, CO 9 is positioned to better accommodate the transportation and recreation needs of growing mountain communities and increasing tourism."
The project included two new roundabouts and the widening of Colorado Highway 9 to four lanes from downtown Frisco to Iron Springs. Road work on the Frisco to Iron Springs project began May 11, 2020 to widen CO 9 to four lanes. Improvements include constructing a pedestrian underpass between the Peninsula Recreation Area and the County Commons on the south side of Frisco, as well as installing noise walls along Water Dance and Frisco Bay Townhomes, new roundabouts at the Water Dance Drive and 8th Avenue intersections, rebuilding the CO 9 southbound right turn lane onto Main Street, replacing traffic signals at Recreation Way and Main Street and drainage improvements throughout the corridor. The Frisco to Iron Springs project was made possible in part due to partnerships with Summit County and the Town of Frisco. Both local agencies helped pay for the pedestrian underpass, which allows locals and visitors alike to enjoy the many recreational opportunities at the Frisco Peninsula Recreation Area.
"The Gap Project has done a lot more than add more drive lanes for cars," says Town of Frisco Mayor Hunter Mortensen. "It has created a better and safer experience for cars, pedestrians, and bikers with three pedestrian underpasses within one mile and with CDOT's construction of more sidewalks and recreation paths in alignment with Frisco's Trails Master Plan. The Town of Frisco is thankful to have partnered with Summit County Government and CDOT to make this stretch better for everyone."
These improvements now make the Frisco Peninsula Recreation Area, as well as the 55+ miles of recreation paths throughout Summit County, more accessible and safer to access. This includes new winter recreation opportunities for using the adjacent recreation path, including Nordic skiing, fat biking, running, and walking. The eight miles between the Frisco Nordic Center and Breckenridge are now groomed when conditions allow from about mid-December through March, creating free new outdoor experiences for residents and visitors.
The underpass was also funded in part by a State of Colorado Transportation Alternatives Program (TAP) grant.