U.S. 550 north of Durango closed on Sat., May 28 of Memorial Day weekend
May 19, 2022 - Southwestern Colorado - Drivers may consider alternate route via Telluride
Southwest Colorado — U.S. Highway 550 will be closed north of Durango on Saturday, May 28, during the annual Iron Horse Bicycle Classic. Motorists are urged to leave Durango early if traveling to Silverton or points beyond, since U.S. 550 will be closed between Purgatory Ski Resort and Ouray from 8:30 a.m. until 1:30 p.m. to accommodate cyclists.
Likewise, travelers heading south from Ouray, Ridgway or Montrose on U.S. 550 should be aware the highway will be closed at Ouray Hot Springs.
Motorists will not be permitted to travel within the closure points after 8:30 a.m. The highway will reopen at 1:30 p.m.
Additional Travel Impacts in Durango
Also on Saturday from 7 - 9:30 a.m. motorists will experience traffic impacts to accommodate several biking race and tour start times, with cyclists set to depart from Main Avenue and 33rd Street.
Just north of Durango, southbound traffic will be diverted from U.S. 550 onto CR 203 at Hermosa Creek to Animas View Drive. Northbound traffic from Durango to Purgatory will proceed along U.S. 550 following traffic control personnel, signage, and cones set in place.
Plan Ahead
Friends or family members who plan to pick up cyclists in Silverton are advised to allow ample time to get through the closure point locations in Ouray and at Purgatory before 8:30 a.m. Purgatory is located 25 miles north of Durango and is an approximate 35 - 45 minute drive.
No work zones or construction projects are taking place between Durango and Silverton this year. For the past several weeks, CDOT maintenance crews have been maintaining and sweeping the highway to clear the road of debris, such as gravel and rocks.
Drivers are reminded and urged to watch for cyclists and drive safely for this event and other special events which may be taking place over the busy holiday weekend.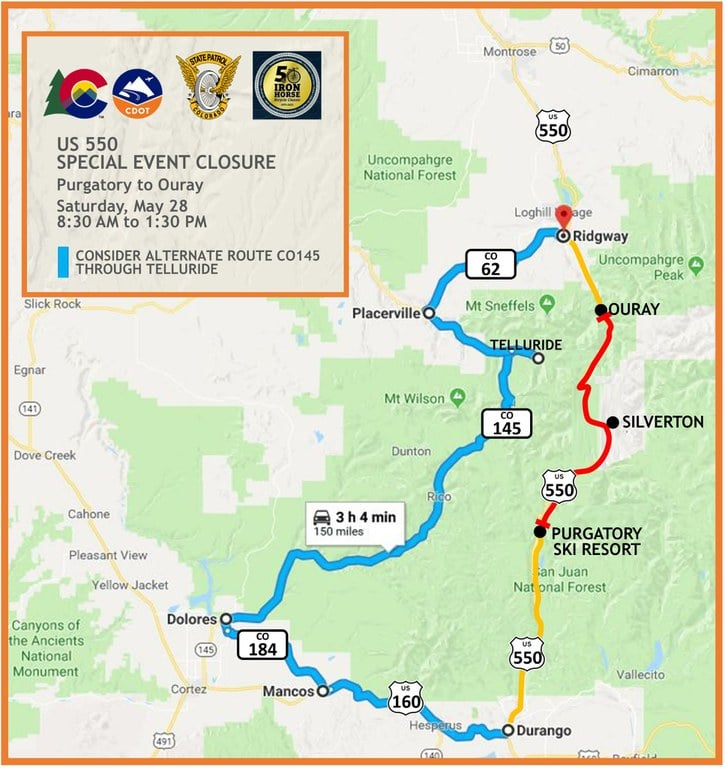 US 550 north of Durango - Alternate Route
Motorists who wish to avoid the highway closure, may consider the alternate route via more westerly highways. This alternate route will add approximately one hour of additional driving time, taking approximately three hours. (The U.S. 550 route from Durango to Ridgway typically takes two hours driving time.)
CO 62 Ridgway to Placerville
CO 145 Placerville to Dolores
CO 184 Dolores to Mancos
U.S. 160 Mancos to Durango
Know Before You Go
Travelers are urged to "know before you go." Gather information about weather forecasts and anticipated travel impacts and current road conditions prior to hitting the road. CDOT resources include:
Remember: Slow For The Cone Zone
The following tips are to help you stay safe while traveling through maintenance and construction work zones.
Do not speed in work zones. Obey the posted speed limits.

Stay Alert! Expect the unexpected.

Watch for workers. Drive with caution.

Don't change lanes unnecessarily.

Avoid using mobile devices such as phones while driving in work zones.

Turn on headlights so that workers and other drivers can see you.

Be especially alert at night while driving in work zones.

Expect delays, especially during peak travel times.

Allow ample space between you and the car in front of you.

Anticipate lane shifts and merge when directed to do so.

Be patient!
Download the COtrip App!
The new FREE COtrip Planner mobile app was designed to meet the growing trend of information on mobile and tablet devices for the traveling public. The COtrip Planner app provides statewide, real-time traffic information, and works on mobile devices that operate on the iOS and Android platforms. Visit the Google Play Store (Android devices) or the Apple Store (iOS devices) to download!
For more information about the Iron Horse Bicycle Classic, visit the event website: www.iron horse bicycle classic.com.