I-70 Floyd Hill to Veterans Memorial Tunnels Improvements - Study
Cost: $700 million
Location: On westbound Interstate 70 from east of the Floyd Hill/Beaver Brook Exit (248) through the Veterans Memorial Tunnels to Colorado Blvd./Idaho Springs Exit (241)
Contractor(s): TBD.
In summer 2017, CDOT and the Federal Highway Administration (FHWA) began phase two of studying and planning improvements on westbound I-70 from Floyd Hill to the Veterans Memorial Tunnels. Among the improvements being considered: increasing travel-time reliability, increasing capacity on the highway, replacing a deficient bridge and improving the geometric design of the interstate.
This stretch of I-70 is one of the most congested locations on the westbound I-70 mountain corridor. High-traffic volume on I-70 west of Denver has led to ever-increasing periods of slow traffic, which, at times, approaches a gridlock situation. This area also is heavily impacted by adverse weather conditions.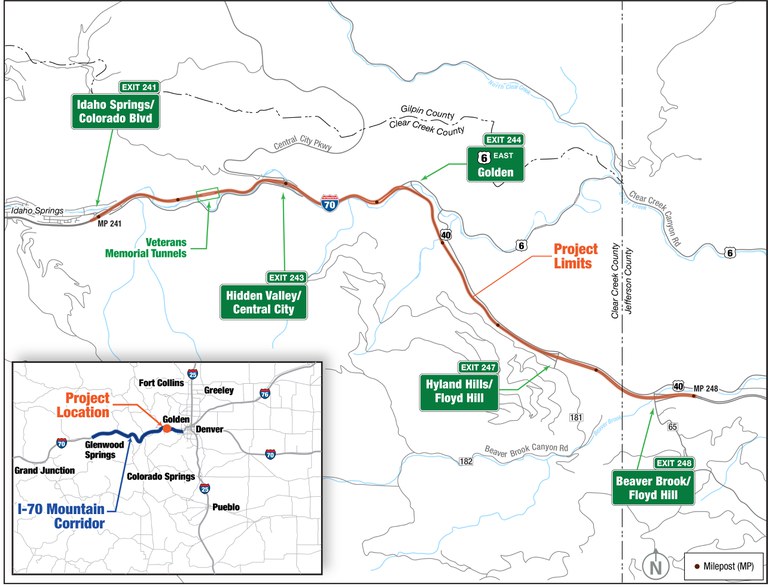 Background
I-70 PEIS & ROD: 2011
Improvements in this project study area were included as a part of the preferred alternative CDOT selected in the I-70 Mountain Corridor Programmatic Environmental Impact Statement (I-70 PEIS, a tier 1 National Environmental Policy Act (NEPA) process). In 2011, the project team signed a Record of Decision (ROD), which included a decision about capacity, mode, and location for future transportation improvements.
Concept Development Process: 2016-2017
From August 2016 to July 2017, CDOT conducted a Concept Development Process, which focused on westbound improvements from the top of Floyd Hill to the interchange of I-70 with US 40 (called Empire Junction). The objective of this process was to develop a shared vision for the corridor among multiple parties. The results of the effort plus the Programmatic EIS are the basis for the tier 2 NEPA process, which began in summer 2017.
The ROD outlines the following improvements specific to the Floyd Hill area:
Six-lane component from Floyd Hill through the Veterans Memorial Tunnels including a bike trail and frontage roads from Idaho Springs to Hidden Valley and Hidden Valley to US 6
Through the National Environmental Policy Act process, the project team will study alternatives provided by the I-70 Concept Development Process—conducted by CDOT and I-70 Mountain Corridor stakeholders in winter and spring 2017.