I-25 North Express Lanes: Mead to Fort Collins
Learn More About Changes to Local Frontage Roads
CO 56 CLOSED OVER I-25
The temporary closure continues on the Weld County Road 44/CO 56 bridge over I-25. With 54 days of work down, this closure will be in place for a maximum of 86 more days. The northbound on- and off-ramps at CO 56 will remain closed for a period not to exceed 31 days, and the southbound on- and off-ramps will remain open with only minor intermittent night and/or weekend closures. This closure is necessary to facilitate construction that improves the safety and traffic flow issues that exist currently. The 140-day CO 56 closure allows crews to make these safety improvements as quickly and safely as possible without closing I-25.

This will allow an extensive list of construction activities to be performed. A variety of detours will be in place. Detour maps can be found on the project traffic impacts page.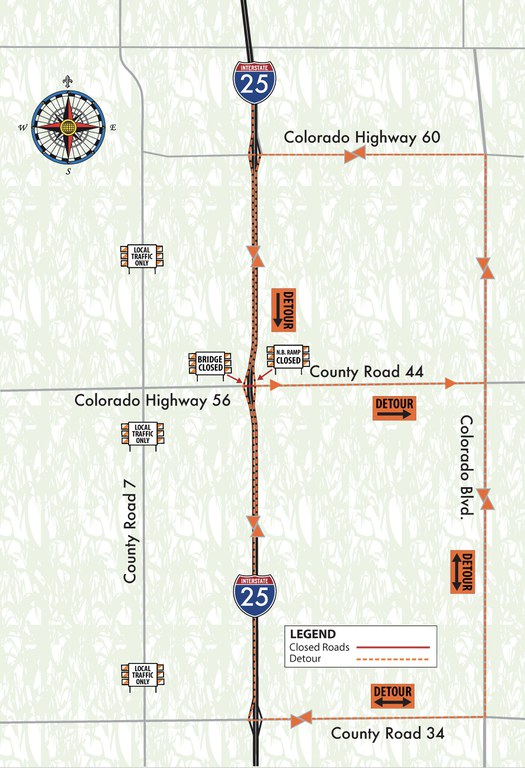 Great Western Railroad Bridge Timelapse 
The Great Western Railroad Bridge was constructed in two phases/halves offline about 20 feet south of the railroad alignment. Once constructed, the existing halves of the bridge were removed and the newly constructed portions were rolled into place. This timelapse shows the western portion of the bridge going into place. Due to the unique phasing of the roadway work, no I-25 lane closures were needed to either construct the new bridge or demolish the old structure.
Berthoud to Johnstown | June 29 Virtual Public Meeting
The project team hosted a virtual public meeting on Tuesday, June 29 to provide information about the upcoming closure of Colorado Highway 56 over I-25, later this summer/early fall. In addition to providing closure and overall project information, the project team answered questions from the community.
Please view the meeting recording below if you were unable to attend the meeting.
Johnstown to Fort Collins | April 14 Virtual Public Meeting
Construction on the I-25 North Express Lanes Project, Johnstown to Fort Collins, is progressing rapidly. Upcoming activities include the reconfiguration of Harmony Road, the permanent closure of the East Frontage Road and work on the Kechter Road bridge.
 
The project team hosted a virtual public meeting on Wednesday, April 14 to provide information about these upcoming construction activities and closures and answered questions from the community.
---
I-25 North and US 34 Traffic Phasing
Have you ever wondered how crews on the I-25 North Express Lanes Project are able to build a new highway without closing the existing highway? When traveling through the I-25 North Express Lanes project, motorists are often navigating a series of intricate traffic shifts. The traffic shifts allow crews to safely maintain traffic and complete the construction in phases. This graphic highlights the traffic phasing at I-25 North and US 34 in Loveland. Work in this area began along the median in fall 2019. In Spring 2020, all traffic was shifted to the southbound lanes so that construction could take place on the northbound lanes. This year, crews are working in the median again. Finally, traffic will shift to the northbound lanes while crews build the southbound lanes. When navigating these work areas, please remember to be patient, drive distraction free and always and slow for the cone zone.
Click the timeline above or use the arrows to explore the traffic phases.
North I-25 Progress Video
As Coloradans across the state found ways to make the most of summer 2020, there were no days wasted for crews on the I-25 North Express Lanes Project. Crews took advantage of the warm weather and long days to continue highway improvements and build Express Lanes between Berthoud and Fort Collins.
Right now, 25 crews are working in 10 different areas of the North I-25 corridor and have already completed many major milestones. In lieu of outreach events in summer 2020 due to COVID-19, the project team produced this video to highlight the progress.
There's no denying that our daily lives have changed drastically in the last two weeks, and in some cases, lives have been turned upside down. Many sacrifices are being made from closing businesses and schooling children at home to canceling events and moving work operations to our homes where possible.
While telecommuting might work for some occupations, construction clearly isn't one of those. Without people physically on-site to do the work, the I-25 North Express Lanes from Berthoud to Fort Collins would never become a reality. But while road work is progressing, for now, that's not to say it is totally business as usual on the job site.
Here are some of the things work crews are doing a little differently these days:
Crew members are refraining from going into jobsite trailers or project offices unless absolutely necessary, and when they have to, they aren't doing so in groups.
Daily safety briefings are being done with just a couple of people rather than the entire crew.
Paperwork is being done in the cab of pickup trucks and daily logs of work activities filled out at home.
Project management meetings are being conducted via phone.
Everyone is being told to NOT report to work if they feel ill, and anyone who doesn't feel well on the job is immediately sent home.
All office staff and non-essential personnel who can work from home are doing so.
Though all workers in the field wear gloves, hand tools are being cleaned more vigilantly and workers are instructed to wash or sanitize their hands after removing gloves.
Workers are bringing their own water bottle to the jobsite to avoid using a common water cooler.
Portable restrooms are being sanitized more frequently.
Steering wheels and machinery equipment controls are being wiped down, particularly if different people will be moving in and out of the equipment throughout the day.
Communities along the north I-25 corridor are expanding rapidly, contributing to major economic growth in northern Colorado. The Colorado Department of Transportation will support this growth by delivering the I-25 North Express Lanes Project. This project will extend from Highway 56 in Mead to Mulberry Street in Fort Collins.
This project brings economic, environmental and quality of life benefits for northern Coloradans by:
 Making safety improvements to reduce the number of crashes and fatalities.
 Decreasing travel time and increasing trip reliability.
 Reducing emissions and improving freight efficiency.
 Employing congestion management and safety technology to improve the travel experience.
 Rebuilding aging and obsolete infrastructure.
 Improving bicycle, pedestrian and transit connectivity.
---
Learn more about the corridor improvements by clicking on the areas below:
Express Lanes: Northbound and southbound Express Lanes with HOV option will be added from US 56 to just past Prospect Road
 Timeline
Construction began between CO 402 and Mulberry in 2018.
Work between CO 56 to CO 402 is expected to begin construction in late 2019.
Once more funding is identified and secured, construction will begin from CO 66 to CO 56.