Traffic Impacts
All work is weather dependent and will be rescheduled if operations cannot be completed.
CONSTRUCTION ACTIVITIES & IMPACTS

Bridge construction and roadway paving continues along the East Frontage Road and I-25 between Colorado Highway 402 and US Highway 34.
Railroad and roadway tie-in work near the Great Western Railroad crossing along I-25 and the SE Frontage Road will continue through November.
Work on the new US 34 ramps to and from I-25 will continue as crews pave the new westbound US 34 on-ramp to northbound I-25, install signals and perform grading work.
Next week, work on the approaches on the new Prospect Road bridge continues.
A single lane closure on I-25 will take place project-wide, 9 p.m. to 5 a.m., Sunday through Friday next week for roadway maintenance and guardrail work.
Single lane closures on I-25 at Colorado Highway 392 and Prospect Road will take place from 9 p.m. to 5 a.m., Monday through Friday next week to remove and reset temporary barrier.
Retaining wall footings will be poured on the north side of Weld County Road 44 this week along with retaining wall panels in the northeast quadrant of the I-25 and WCR 44 interchange. Lane closures will take place on eastbound and westbound WCR 44 to allow construction equipment across the road. Flaggers will be on-site, and intermittent traffic stops are expected with minimal impact to commuters.
A bridge rail was installed on the new I-25 over Little Thompson River bridge deck this week, and the northwest retaining walls will be poured. 
Work will take place on the I-25 northbound on-ramp from WCR 44/Colorado Highway 56, which will include placement of base and grading operations in preparation for paving in mid-November.
---
Work this Week
Oct. 25 - 31
Lane closures for the week of Oct. 25:
Sunday – Friday: Nighttime northbound and southbound I-25 single lane closures from CO 402 to Prospect Road.
Monday – Saturday: Daytime flagging operations project-wide.

Wednesday – Thursday: Daytime flagging operations on eastbound and westbound WCR 44 at I-25
Extended Closures
 I-25 frontage road (WCR 44 to Valley Road intersection) near the Berthoud exit - PERMANENTLY CLOSED
On July 27, the eastern I-25 frontage road between Weld County Road 44 and the intersection of Valley Road closed permanently to allow crews to safely realign I-25 at the CO 56 intersection and improve the intersection altogether. In the long term, this closure will allow for the expansion and additional lanes on I-25 North.
Through access will no longer be available. Additionally, the Berthoud Park and Ride will close for approximately one week beginning July 27. The lot will be temporarily relocated to a site accessed from Weld County Road 44 before it is relocated to its final site. Please follow posted signage in the area and plan accordingly.
Construction is weather-dependent and subject to change.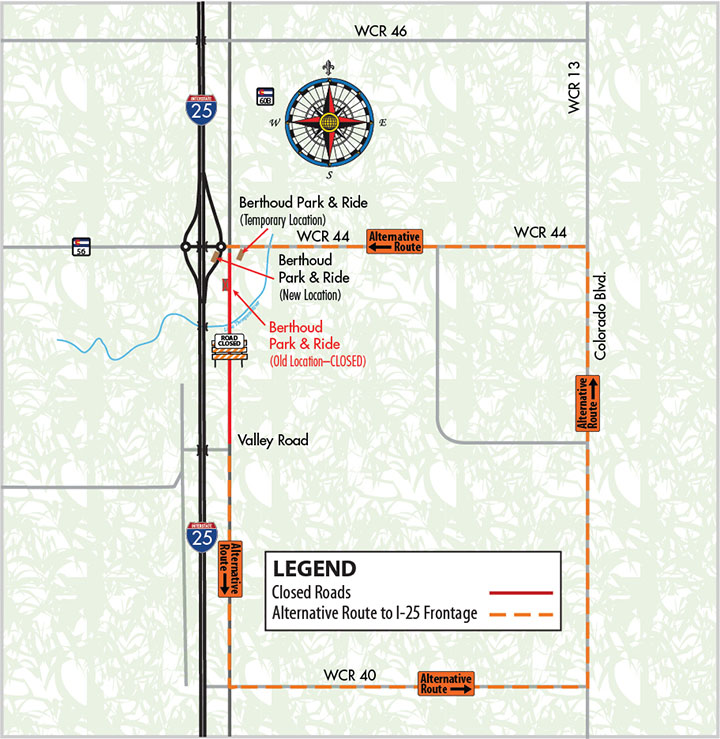 I-25 North Frontage Road near Berthoud now permanently CLOSED
The I-25 frontage road between Colorado Highway 56/Weld County Road 44 to WCR 46 is now permanently closed. This closure is the first phase of a larger frontage road closure plan. All properties and utility companies will have access maintained to their property.
The frontage road between Larimer County Road 14 and Colorado Highway 402 remains in place due to the number of business accesses.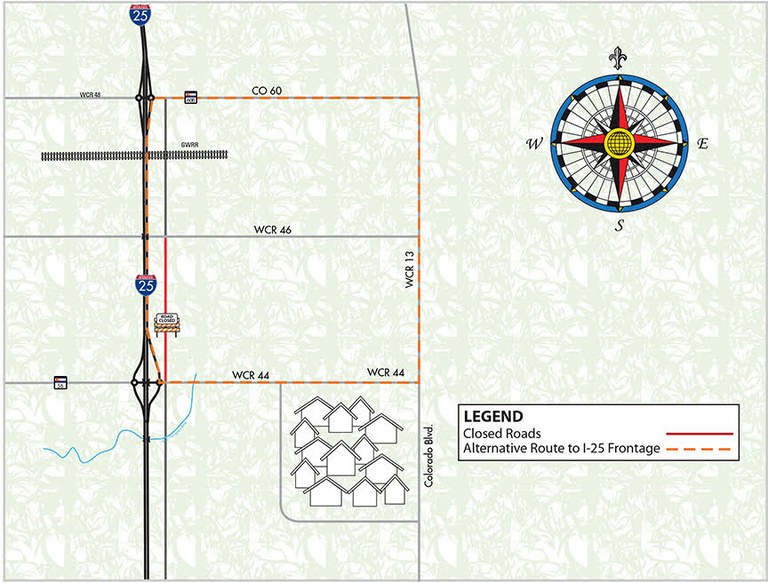 Click the button below to view CDOT's I-25 Frontage Road Vision.