Agencies, contractor celebrate completion of I–70 Parachute to Rulison resurfacing project
September 29, 2022 - Northwestern Colorado - New asphalt and safety features highlighted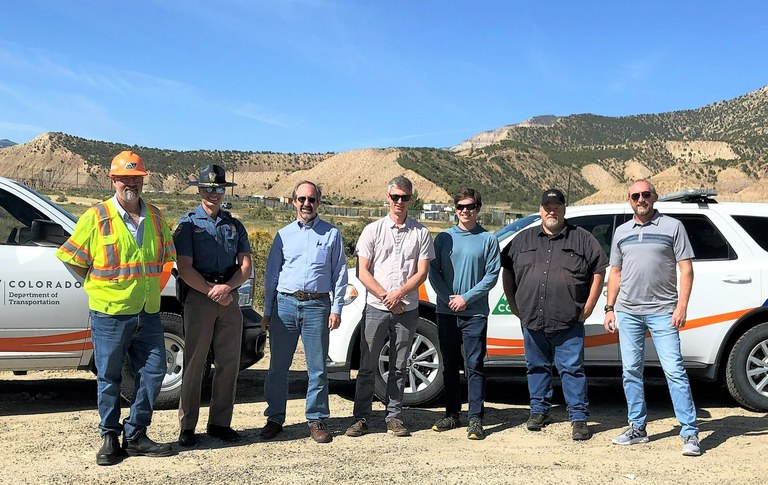 Garfield County - The Colorado Department of Transportation, contractor Elam Construction and partner agencies gathered on Wed., Sept. 28 to celebrate the completion of a resurfacing project on Interstate 70 from Parachute to Rulison. The project was completed on time and under budget. Agencies at Wednesday's event included the Federal Highway Administration, Colorado State Patrol and the Town of Parachute Police Department. Click here for photos of the event and the completed project.

"Good transportation projects do two principal things," said Colorado Division Administrator John Cater with the Federal Highway Administration. "They support the economy or economic development by allowing people to get to and from jobs and expedite the movement of freight and essential goods. This project accomplishes these goals."

Resurfacing work on the project took place along I-70 for six miles, from roughly the community of Parachute (Mile Point 75.4) to just east of Rulison (MP 81.6). 

"This has been a significant season for tackling much needed improvements across the I-70 corridor," said CDOT Executive Director Shoshana Lew. "From long-needed bridge replacements like I-70 and Harlan in Denver, to much needed repairs in and around the Eisenhower Johnson Memorial Tunnels, to adding auxiliary lanes between Frisco and Silverthorne, to major improvements to Vail Pass, to resurfacing this critical segment between Rifle and Parachute on the Western Slope. We are grateful to finally have stable transportation funding to make these kinds of improvements, thanks to the combination of federal action and the state's historic bipartisan infrastructure package."

On the Parachute to Rulison project, crews placed 2-inch hot mix asphalt overlay and leveled asphalt at select locations on I-70. The hot mix asphalt will add approximately ten years of life to the highway, provide a smoother road surface and increase durability by increasing roadway resistance to ruts and road damage. This will allow for a smoother and safer drive for motorists. 

"Improvements like this project make it possible for Colorado State Patrol, Garfield County Sheriff's Office, the Town of Parachute Police Department, other law enforcement and emergency services to respond to incidents as quickly and safely as possible," said Colorado State Patrol Captain Jared Rapp. "When there is a crisis, oftentimes it's a drug overdose and every second counts. When our officers can reach a driver two seconds faster, that can save a life."

Crews also repaved on and off-ramps at exit 81 (Rulison).

"This project is a great example of CDOT's bread and butter improvements to Colorado's highways: resurfacing busy sections of critical rural roadways," said CDOT Project Engineer Graham Riddile. "Resurfacing the interstate ramps is another way that CDOT aims to improve I-70 not just for through travelers but also local communities and residents."

Project improvements also included installation of new guardrail, replacement of bridge rail and striping. New guardrail is 31 inches high and designed to meet new safety standard requirements. The higher railing will help veering vehicles remain on the road more effectively, making the highway safer for the traveling public. The former standard height of guardrail was 27 inches.