CDOT begins replacement of two structures near Timpas on US 350
September 30, 2022 - Southeastern Colorado - Requires 21-day full lane closure on US 350
Otera and Las Animas Counties — Colorado Department of Transportation and CapitalTezak JV Construction will begin bridge replacement work Oct. 3 on US 350 between La Junta and Trinidad. This work is part of a $43 million bridge bundle package that includes 17 structures state-wide.
The bridge replacement work will require a 21-day, full closure of US 350 between mile post 57.5 and 57.1 beginning Oct. 17. Crews will be assembling the structures on the shoulders of the roadway and then will set the structures into place. Detours will be in place.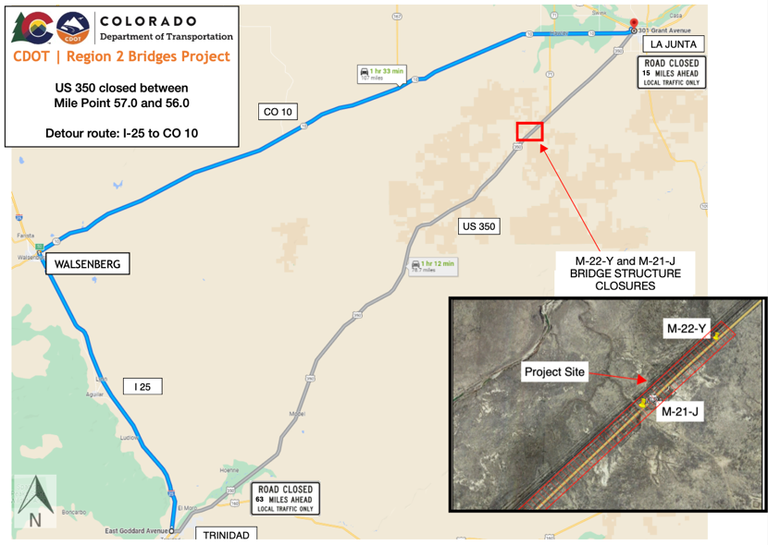 Detour Information
During the full road closure for US 350 near Timpas, motorists should detour at the northern end of the project at La Junta and use CO 10 to Walsenburg. At the southern end of the project, US 350 will be closed at mile point 60. Use I-25 north to Walsenburg and CO 10 to La Junta.
Construction schedules are weather-dependent and subject to change.
Traffic Impacts
US 350 between La Junta and Timpas (mile points 57.5 – 57.1)
Monday, Oct. 3 at mile points 57.5 – 57.1 crews to install advance warning signs
Beginning Monday, Oct. 17, a 21-day full lane closure at mile points 57.5 – 57.1, to allow crews to assemble and install bridge structures. Use detour route
About the Project
CDOT, and its contractor partner CapitalTezak JV, will replace 17 rural structures across key highway corridors (CO 9, US 24 and US 350) in Region 2. The 17 rural structures that comprise the project area are on essential highway corridors in southeastern and central Colorado. The key corridors provide rural mobility, intra- and interstate commerce, movement of agricultural products and supplies, and access to tourist destinations. The $43 million project will start in summer 2022 and project completion is slated for winter 2024.
Project Information
For additional information about this project:
Know Before You Go
Travelers are urged to "know before you go." Gather information about weather forecasts and anticipated travel impacts and current road conditions prior to hitting the road. CDOT resources include:
Remember: Slow For The Cone Zone
The following tips are to help you stay safe while traveling through maintenance and construction work zones.
Do not speed in work zones. Obey the posted speed limits.
Stay Alert! Expect the unexpected.
Watch for workers. Drive with caution.
Don't change lanes unnecessarily.
Avoid using mobile devices such as phones while driving in work zones.
Turn on headlights so that workers and other drivers can see you.
Be especially alert at night while driving in work zones.
Expect delays, especially during peak travel times.
Allow ample space between you and the car in front of you.
Anticipate lane shifts and merge when directed to do so.
Be patient!
Download the COtrip App!
The new FREE COtrip Planner mobile app was designed to meet the growing trend of information on mobile and tablet devices for the traveling public. The COtrip Planner app provides statewide, real-time traffic information, and works on mobile devices that operate on the iOS and Android platforms. Visit the Google Play Store (Android devices) or the Apple Store (iOS devices) to download!