Performance Plan & Strategic Goals
Performance Plan & Strategic Goals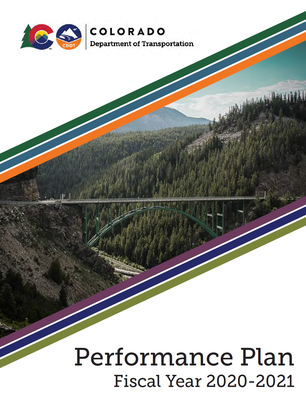 Each fiscal year on July 1, CDOT produces an annual Performance Plan, required under Colorado Revised Statute C.R.S. § 2-7-204 - known as the State Measurement for Accountable, Responsive and Transparent (SMART) Act. This plan outlines the short-term strategic goals for the current fiscal year, as well as targets for these goals for the next two years.
For fiscal year 2021, the strategic goals of the Department are:
• Whole System, Whole Safety
• Clean Transportation
• Accountability & Transparency
CDOT will produce four quarterly evaluations that will report on the progress of these goals and the strategies to achieve these goals, and a final evaluation in November after the close of the fiscal year. The current fiscal year's performance plan and its quarterly performance evaluations are available online.
Progress Reports
In addition to these quarterly evaluations, CDOT reports progress on its top strategies for its strategic goals monthly. Please use the links below to explore dashboards that cover current targets for this year's goals and strategies and current data towards achievement of these goals.
Fiscal Year 2021 Quarter 3 Evaluation
Fiscal Year 2021 Quarter 4 Evaluation
Fiscal Year 2021 Final Evaluation