2040 Regional Transportation Plans
CDOT gathers input from 10 rural Transportation Planning Regions to help develop a Regional Transportation Plan (RTP) for each. These RTPs were then folded into the broader 2040 Statewide Transportation Plan. Each region's plan has different needs, priorities and strategies for the future.
2040 Regional Transportation Plans for the state's five metropolitan regions (Denver, Pikes Peak, North Front Range, Pueblo and Grand Valley) are also listed below.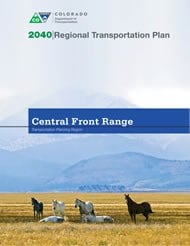 Central Front Range RTP
Counties include: Custer, Fremont, Park, part of El Paso, and part of Teller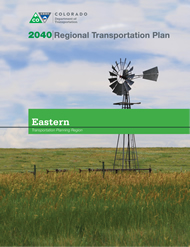 Eastern RTP
Counties include: Cheyenne, Elbert, Kit Carson, Lincoln, Logan, Phillips, Sedgwick, Washington, and Yuma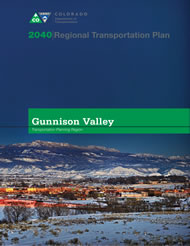 Gunnison Valley RTP
Counties include: Delta, Gunnison, Hinsdale, Montrose Ouray and San Miguel
---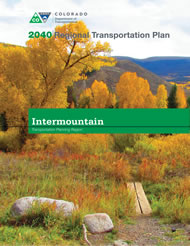 Intermountain RTP
Counties include: Eagle, Garfield, Lake, Pitkin, and Summit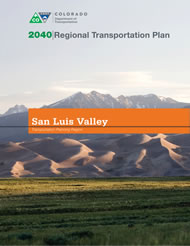 San Luis Valley RTP
Counties include: Alamosa, Chaffee, Conejos, Costilla, Mineral, Rio Grande and Saguache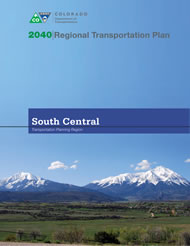 South Central RTP
Counties include: Huerfano and Las Animas
---
Southeast RTP
Counties include: Baca, Bent, Crowley, Kiowa, Otero, and Prowers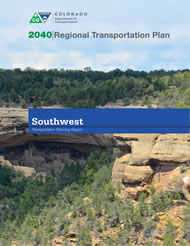 Southwest RTP
Counties include: Archuleta, Dolores, La Plata, Montezuma, and San Juan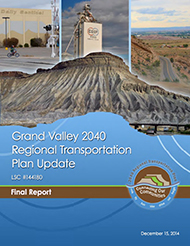 Grand Valley MPO RTP
Counties include: Mesa
---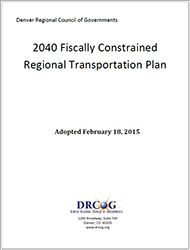 Denver Regional Council of Governments RTP
Counties include: Adams, Arapahoe, Boulder, Broomfield, Clear Creek, Denver, Douglas, Gilpin, Jefferson and part of Weld
Upper Front Range RTP
Counties include: Morgan, part of Larimer and part of Weld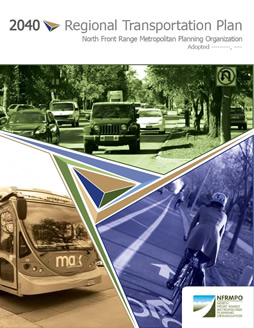 North Front Range MPO RTP
Counties include: Part of Larimer and part of Weld
---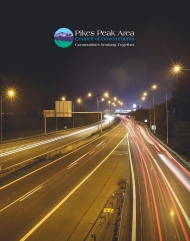 Pikes Peak Area Council of Governments RTP
Counties include: Part of El Paso and part of Teller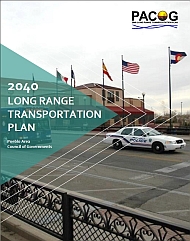 Pueblo Area Council of Governments RTP
Counties include: Pueblo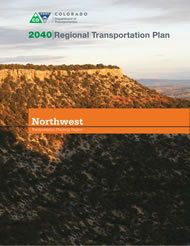 Northwest RTP
Counties include: Grand, Jackson, Moffat, Rio Blanco, and Routt