Nothing Uglier Than a DUI


Throughout December and into the new year, the Colorado Department of Transportation is joining forces with the Governor's Highway Safety Association (GHSA), Lyft and Responsibility.org to provide $20,000 in ride credits as part of a promotion to reduce impaired driving and save lives statewide. 
From Dec. 1, 2022 – Jan. 3, 2023, Coloradans can redeem a $10 ride credit using the code "DUISRUGLY" in the Promotions section of the Lyft app. The ride credits, available statewide, are valid only while supplies last. The credits must be redeemed from 5 p.m. - 5 a.m. Use this link to apply the credit directly to the Lyft app from a mobile device.
The "Nothing Uglier Than a DUI" campaign aims to curb impaired driving by offering safe and sober rides during the holiday season. CDOT invites Coloradans to show their holiday spirit by sporting their seasonal sweaters and redeeming Lyft ride credits to get to and from their destinations safely. Those who follow CDOT on Facebook will also have a chance to win a custom ugly holiday sweater by engaging with one of CDOT's promotional posts on Facebook to be entered to win a sweater. Winners will receive a direct message from CDOT. 
It's Not Complicated

Many people spend an enormous amount of energy trying to convince themselves they are okay to drive after drinking. Unfortunately, magic solutions like the "chug-two-glasses-of-water" don't exist. The truth is, if you've been drinking, you're not okay to drive.
CDOT's It's Not Complicated campaign aims to inform Coloradans that no matter how many alcoholic beverages they've had, it's never okay to drive. It's that simple. The campaign features radio ads, social media, billboards, video ads and messaging in liquor stores, all showcasing flow charts and graphs to illustrate that no matter the circumstance, it's never okay to drive after drinking. CDOT wants those who are to keep themselves and others safe by not drinking.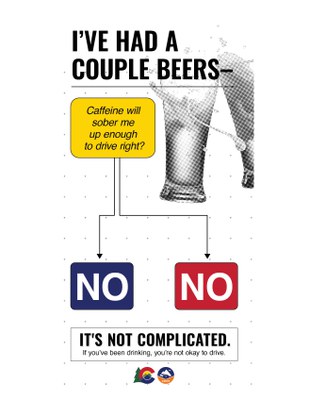 A study conducted by CDOT among people given a smartphone breathalyzer to see their blood alcohol levels while drinking, often underestimated their level of impairment. They were also unaware that they could be arrested for a DUI with a BAC below 08.  You can find CDOT's Breathalyzer Research report here.
Since many people aren't aware of the dangers (and legal consequences) of driving after consuming even small amounts of alcohol,  the message is simple—if you have been drinking, don't drive.
The Heat Is On
The CDOT Highway Safety Office provides funding to Colorado law enforcement for impaired driving enforcement, education and awareness campaigns. The Heat Is On campaign runs throughout the year, with 16 specific high-visibility impaired driving enforcement periods centered on national holidays and large public events. Enforcement periods can include sobriety checkpoints, saturation patrols and additional law enforcement on duty dedicated to impaired driving enforcement.
Resources