Crews complete US 50 Delta settlement repair project
August 1, 2022 - Northwestern Colorado - Local agency representatives gather to celebrate project improvements
Mesa & Delta Counties — The Colorado Department of Transportation and contract partner Elam Construction of Grand Junction are pleased to announce the completion of the US Highway 50 settlement repair project north of Delta. The multi-year project took place along US 50 beginning at Mile Point 47.6, in Whitewater, and continued for more than 19 miles to MP 66.7 near Delta. Representatives from the Colorado Department of Transportation and partner agencies gathered on Friday, July 29, to celebrate the completion of the US Highway 50 Settlement Repair project.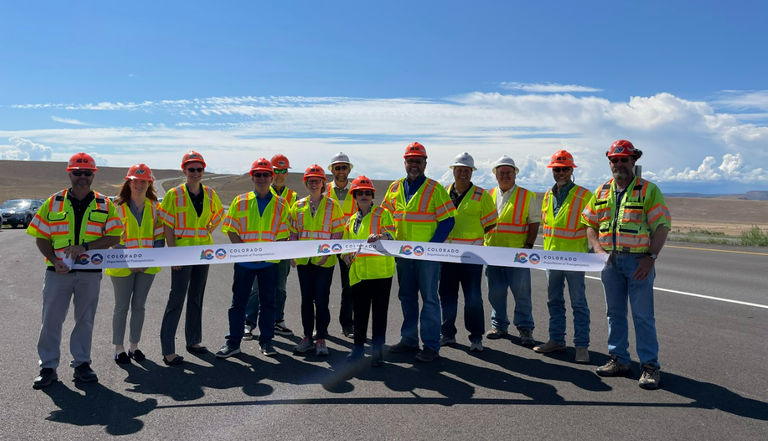 "This section was known as either the 'Delta Dips' or the 'Roller Coaster' for a reason," said CDOT Executive Director Shoshana Lew. "For too long, it was badly in need of repairs but CDOT lacked the resources to fix it. When the Polis Administration's 10-Year Plan process began, this project quickly rose to the forefront as a priority, and it was shovel-ready when federal stimulus funds became available in 2021. CDOT is grateful to all of our partners, including Delta County, Mesa County, Elam Construction, and others for helping us reach the important milestone of completing this project."
The project received $15 million in federal stimulus funds in 2021. The funding was part of the total $150 million CDOT received in federal money from the COVID-19 relief package and stimulus funds in an omnibus appropriations package.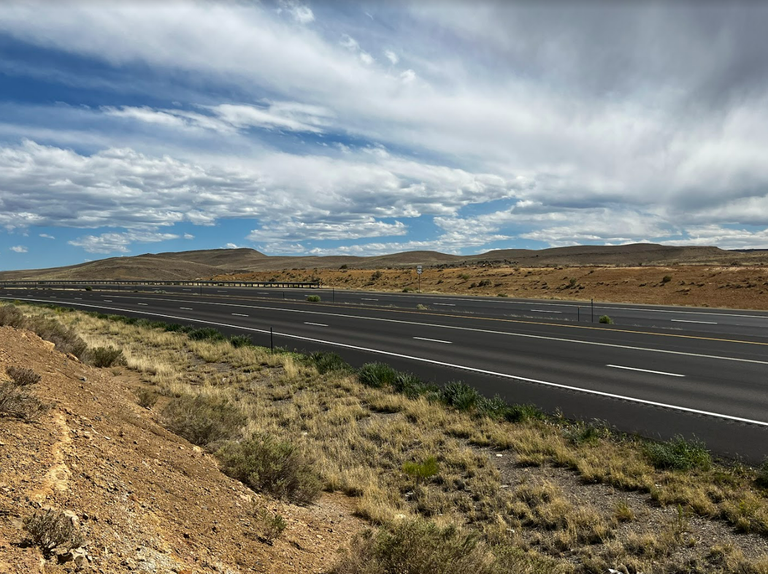 During the project, crews worked on full-depth reclamation, milling, hot mix asphalt top mat paving and lane level paving, shouldering, guardrail installation, rumble strip installation and permanent striping. "This section of US 50 is a safer drive thanks to full-depth reclamation at multiple locations along this 19-mile project," said Region 3 Transportation Director Jason Smith. "The new paving with hot mix asphalt will add approximately 10 years of life to the highway and will eliminate ruts and road damage."
"US Highway 50 is a lifeline for residents, businesses and commuters in Delta, Montrose and Mesa counties," said Delta County Commissioner Don Suppes. "The smoother, safer drive on US 50 between Grand Junction and Delta benefits all of these motorists."
Other benefits of the project included installation of new guardrail that will be 31 inches high, designed to meet new safety standard requirements. The higher railing will help veering vehicles remain on the road more effectively, making the highway safer for the traveling public. The former standard height of guardrail was 27 inches. Additional work was added to the original contract to complete necessary improvements on the eastern end of the project.
Download the COtrip App!
The new FREE COtrip Planner mobile app was designed to meet the growing trend of information on mobile and tablet devices for the traveling public. The COtrip Planner app provides statewide, real-time traffic information, and works on mobile devices that operate on the iOS and Android platforms. Visit the Google Play Store (Android devices) or the Apple Store (iOS devices) to download!