I-70 Floyd Hill Monthly Update - December 2022
Design is progressing on the I-70 Floyd Hill project's Construction Manager/General Contractor (CMGC) Refined Preferred Alternative. An interactive computer model of the design is available at this link, and is also posted in the "Quick Links" section on the left hand side of the I-70 Floyd Hill web page. If you click the link and see "Page Not Found," refresh your browser to start the interactive model.
Informational project updates were distributed in early November. These included a postcard mailing to more than 5,000 residents and other interested parties along the I-70 Floyd Hill corridor, an email blast to the project email distribution list of more than 2,200 subscribers, and flyers and magnets posted in community centers across the corridor. The team continues to respond to email and telephone questions and comments. Most of the inquiries relate to construction of Early Projects (I-70 Genesee Wildlife Crossing and US 40 Roundabouts) with some questions about the Express Lane aspect of the main project.
The Environmental Assessment decision document is being routed for final signatures and is expected to be released in January 2023. The document will formalize the selection of the CMGC Refined Preferred Alternative for the project. The project's Context Sensitive Solutions (CSS) teams are meeting several times a month and will continue to actively engage in final design and construction.
A public meeting to update and inform stakeholders about the I-70 Floyd Hill project construction phasing is planned for March 7, 2023 at Clear Creek High School. Further details, including the time of the meeting, will be released at a later time. Notices will be sent to I-70 Floyd Hill email subscribers. You can sign up here by clicking "Subscribe to Construction Updates", entering your email address, and checking the box for "I-70 Mountain Corridor | Floyd Hill to the Veterans Memorial Tunnels" (see example below).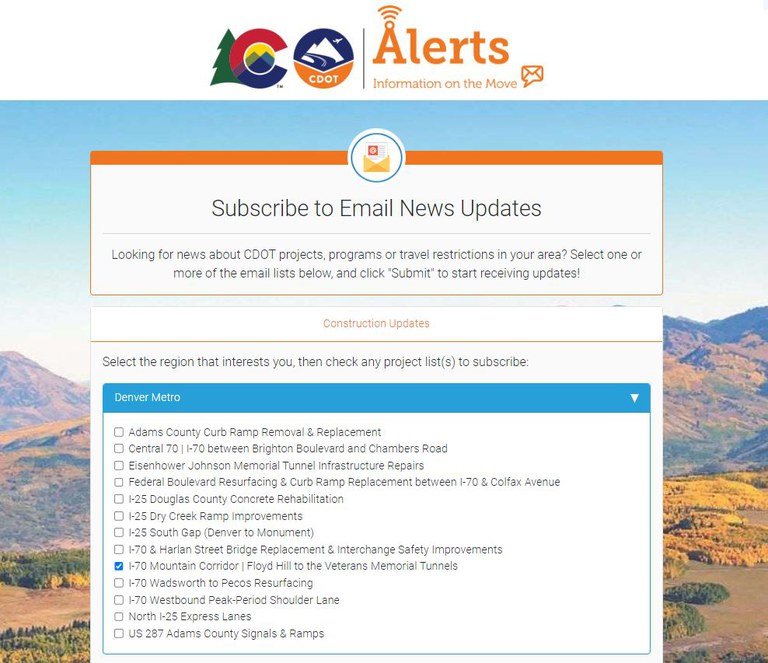 Construction Update:
Construction of the Floyd Hill Project will take place in three major packages.
Package 1: East Section
Location: County Road 65 to the bottom of Floyd Hill
Current Level of Design: 60%
Expected Construction Start Date: Late Spring/Summer 2023
Package 2: West Section
Location: Hidden Valley Interchange to Idaho Springs Exit 241
Current Level of Design: 30%
Expected Construction Start Date: Fall 2023
Package 3: Central Section
Location: Bottom of Floyd Hill to Hidden Valley/Central City Parkway
Current Level of Design: 20%
Expected Construction Start Date: Early 2024
Early Projects Update
Construction of the US 40 Roundabouts and Genesee Wildlife Crossings Projects is underway! CDOT has fielded numerous questions and concerns about construction. The project teams are available to answer questions or other Inquires through the project email or telephone hotline: [email protected] and/or 303-512-4408.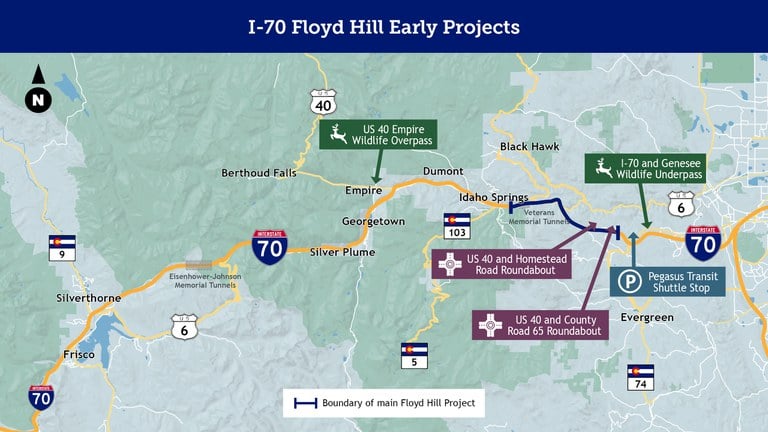 Genesee Wildlife Crossing
Construction began in October 2022. Interim paving and a traffic shift is underway on I-70 between Evergreen Parkway and Genesee Parkway. Crews are also working on utility relocations
The project continues to monitor the challenges with sun glare and adjustments have been made to the striping and signage to improve traffic flow and safety. As a reminder, the posted speed limit has been reduced through the construction zone to aid in the safety of the traveling public through the project
US 40 Roundabouts Project
The contractor, American Civil Constructors, started construction in mid-December, and construction is expected to finish by the end of 2023
Empire Wildlife Crossing Early Project
Geotechnical investigations are complete, and design plans are being finalized
Advertisement for construction is expected in February 2023
Estimated Cost: $7 million-$10 million
Construction is expected to last about 18 months
El Rancho West Parking Lot Early Project
Project is in design
The new Pegasus shuttle van stop and parking area will be located on the north side of I-70 near the I-70 El Rancho exit (Exit 252). This location allows Pegasus to use the new Express Lane and was preferred by Floyd Hill community members (compared to the originally planned location at Homestead Road)