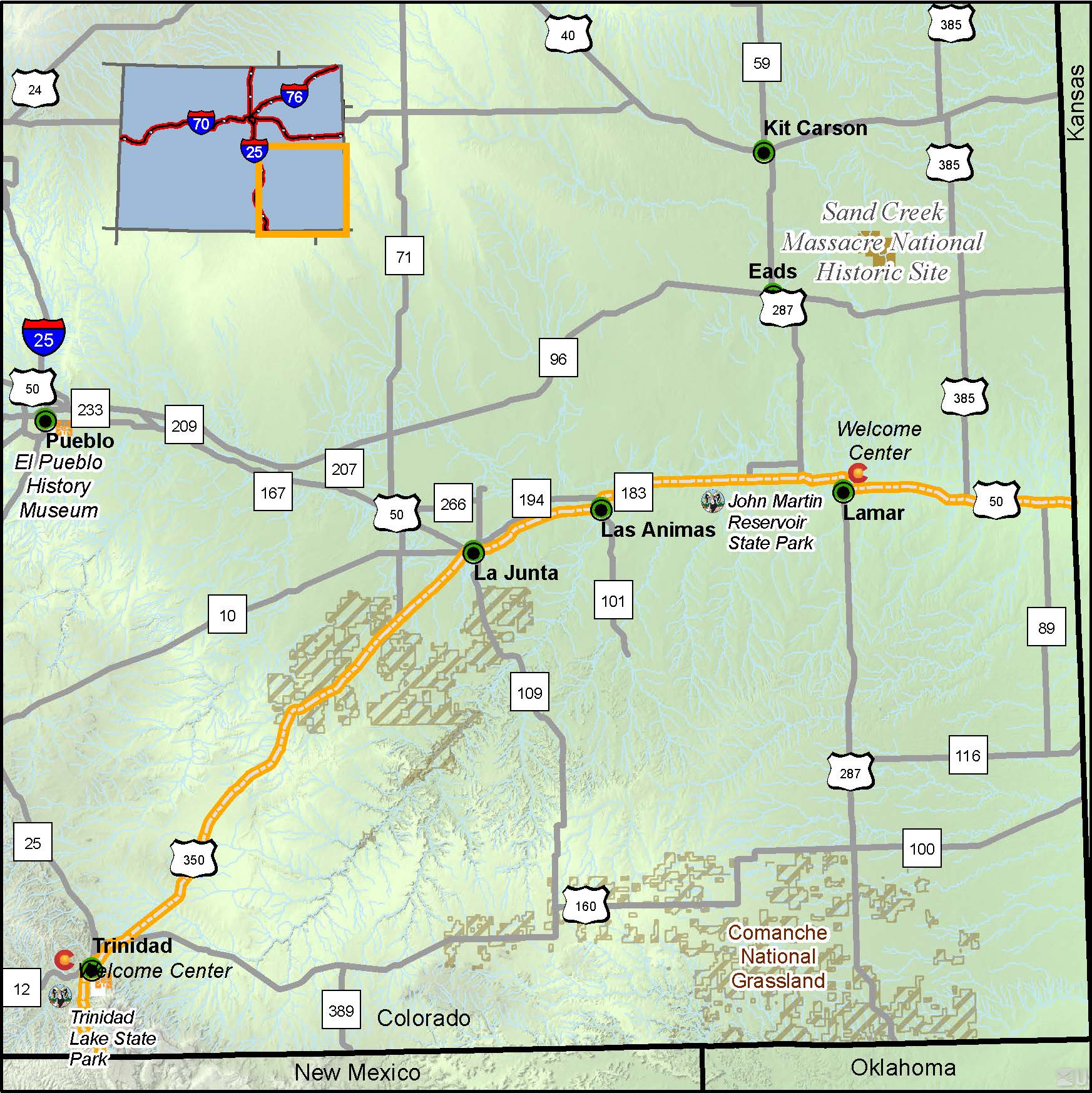 Length: 188 miles (565 miles total CO/NM)
Driving time: 4 hours
On a clear spring day, a sharp observer can still discern the wagon-wheel ruts of the Santa Fe Trail wending their way across the prairie. The cultural legacies of this historic trade route, which saw its heaviest use between the 1820s and 1870s, remain just as distinct.
The byway, which comprises a 188-mile portion of the trail, traverses one of the last strongholds of the nomadic Plains Indians and one of the first toeholds of Anglo-American pioneers, who began homesteading along the Arkansas River in the 1860s.
The Mountain Branch of the trail traveled through what is today Trinidad and crossed Raton Pass, a mountain gap used by Native Americans for centuries. The byway's midpoint is Bent's Old Fort, once a trading post and cultural melting pot, now a National Historic Site.
The Santa Fe Trail was designated by the U.S. secretary of transportation as a National Scenic Byway in 1998. It is one of 13 America's Byways® designated in Colorado.
---
Features
Comanche National Grasslands
Santa Fe Trail Museum (Trinidad)
Las Animas Hatchery & Rearing Unit
---
Local Chambers of Commerce
---
Byways Corridor Management Plan
Santa Fe Trail Scenic & Historic Byway Corridor Management Plan (2008)
Santa Fe Trail Scenic & Historic Byway Interpretive Master Plan (October 1997)
---
Special Considerations
Good buys at fruit and vegetable stands