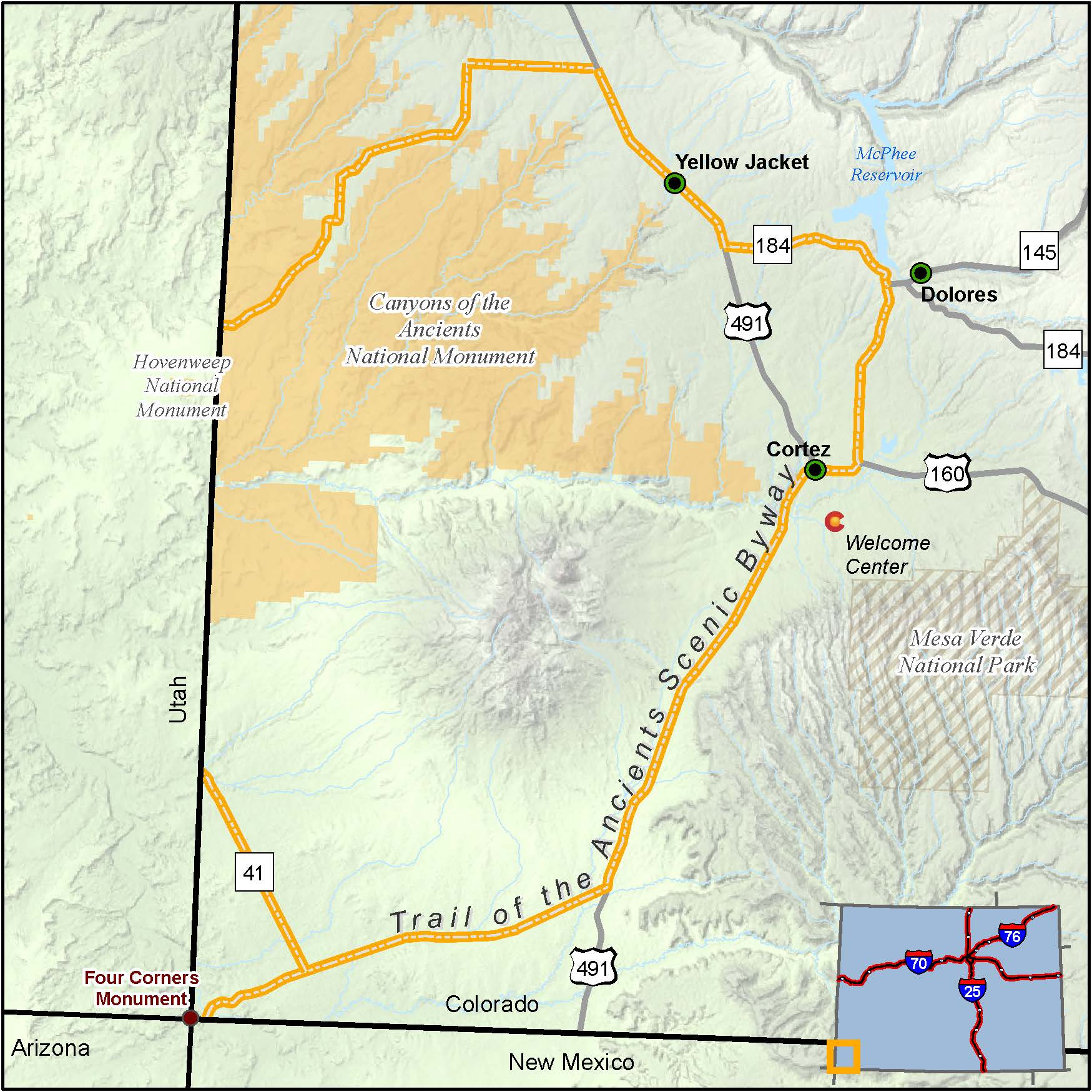 About the Byway
Length: 116 miles (480 miles CO/UT total)
Driving time: 3 hours
Trail of the Ancients was designated by the U.S. Secretary of Transportation as a National Scenic Byway in 2005. It is one of 13 America's Byways® designated in Colorado.
The Ancestral Puebloans guarded their secrets closely. We know they dominated the Colorado Plateau for hundreds of years, yet basic questions about them - who they were, how they lived, what they believed - remain less than fully resolved. Trail of the Ancients is a 116-mile route across the broken, arid, cultural terrain of the Ancestral Puebloan people that is not only designated as a scenic byway, but also as an America's Byway by the federal government. Along the route, visitors can see clues about the ancient civilization with cliff dwellings, rock art and pottery sherds. Attractions along the byway include Hovenweep National Monument and Mesa Verde National Park, which both contain dense clusters of ancestral sites and artifacts. The Canyons of the Ancients National Monument, and the Visitors Center/Museum (CANM) in Dolores, offer authentic interactions, compelling background and interpretive information. One branch of the byway leads to the Four Corners Area, connecting with Utah's Trail of the Ancients byway.
Trail of the Ancients Photo Tour
---
Awards
Trail of the Ancients won a National Scenic Byway Foundation's 2020 Public-Private Partnership Award for the McElmo Creek Flume Restoration. Read more about this award and project online at coloradopreservation.org/programs/endangered-places/mcelmo-creek-flume.
---
Features
---
Local Chamber(s) of Commerce
---
Byways Corridor Management
---
Special Considerations
Muddy when wet
Some gravel surfaces