CO 115 construction starts late July between Colorado Springs and Penrose
July 22, 2022 - Southeastern Colorado - crews will be constructing a major improvement project
El Paso County – The Colorado Department of Transportation is constructing a major improvement project on Colorado Highway 115 between Colorado Springs and Penrose starting the last week of July. Initial construction activities will require shoulder closures between Roca Roja Circle (mile point 35.5) to Rock Creek Canyon Road (MP 39). Crews are preparing for a major traffic pattern change, which will reduce approximately three miles of CO 115 to one lane in each direction, in early August.

This 18-month project improves roadway and bridge safety on CO 115 from MP 27.7 to MP 39 by adding passing lanes, right turn lanes, reconstructing Rock Creek Bridge, and performing major rehabilitation or reconstruction of cracked and distressed pavement. Castle Rock Construction was selected for the $40 million project. 

"CO 115 is a vital route linking the area's military bases, Canon City, Florence, Penrose, Pueblo West and Colorado Springs. CDOT is committed to completing critical safety improvements on CO 115 as quickly as possible," said CDOT Executive Director Shoshana Lew. 

The initial phase of construction will focus on the northern three miles of the work zone (MP 35.5 – MP 39). Crews will primarily work during daylight hours Monday through Friday. However, night and weekend work are anticipated for several work activities to expedite construction and reduce traffic impacts. Construction schedules are weather-dependent and subject to change. Weekly updates will be available on the project web page.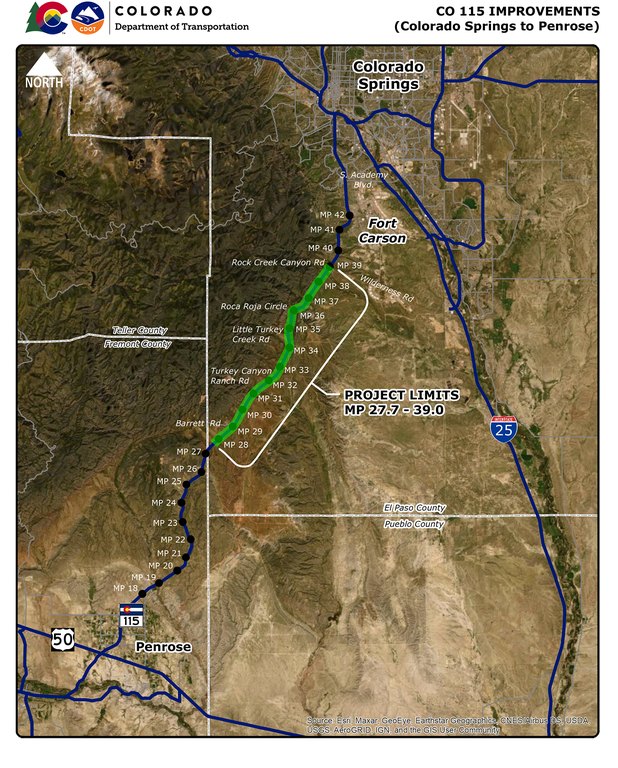 Project Information
For additional information about this project:
Project hotline: 719-208-8650
Project email: [email protected]
Project web page: codot.gov/projects/co115-colorado-springs-to-penrose
Know Before You Go
Travelers are urged to "know before you go." Gather information about weather forecasts and anticipated travel impacts and current road conditions prior to hitting the road. CDOT resources include:
Remember: Slow For The Cone Zone
The following tips are to help you stay safe while traveling through maintenance and construction work zones.
Do not speed in work zones. Obey the posted speed limits.
Stay Alert! Expect the unexpected.
Watch for workers. Drive with caution.
Don't change lanes unnecessarily.
Avoid using mobile devices such as phones while driving in work zones.
Turn on headlights so that workers and other drivers can see you.
Be especially alert at night while driving in work zones.
Expect delays, especially during peak travel times.
Allow ample space between you and the car in front of you.
Anticipate lane shifts and merge when directed to do so.
Be patient!
Download the COtrip App!
The new FREE COtrip Planner mobile app was designed to meet the growing trend of information on mobile and tablet devices for the traveling public. The COtrip Planner app provides statewide, real-time traffic information, and works on mobile devices that operate on the iOS and Android platforms. Visit the Google Play Store (Android devices) or the Apple Store (iOS devices) to download!