I-70 wildlife fence work begins in Eagle County
July 26, 2022 - Northwestern Colorado - Additional projects in the area
Eagle County — The Colorado Department of Transportation and contract partner CC Enterprises of Grand Junction will soon begin a wildlife fence project along the Interstate 70 corridor near Vail. The project is scheduled to start August 3. The project team will stay in close contact with CDOT maintenance crews in the event of I-70 closures in Glenwood Canyon.
Work will take place along both sides of the I-70 corridor for approximately 12 miles from Mile Point 170.5, by the Minturn interchange, to MP 181.8, east of Vail. Crews will be removing approximately 1.5 miles of unstable fence, repairing broken fence, installing over five miles of deer fence and installing nine wildlife game ramps. The new fence will tie into the existing deer fence. Old fencing through Gore Creek will be removed and relocated.
Wildlife fencing keeps animals off the highway and directs them to the game ramps, which provides safe passage for wildlife under the highway. These structures are located on I-70 at MP 171.75 and MP 180.2. When animals use the game ramps, it eliminates the possibility of animals being hit by a vehicle. "Reducing vehicle collisions with wildlife in this area is a priority," says Region 3 Transportation Director Jason Smith. "Reducing vehicle collisions helps keep motorists and wildlife safe. This project is a big step towards doing that for this area."
The new game ramps will also allow animals that have managed to access the highway to safely cross back over wildlife fencing and move away from the roadway.
Traffic Impacts
Motorists should plan for east and westbound single lane closures, shoulder closures and flagging operations on the frontage road and bike path. Hours of operation are Monday through Friday from 7 a.m. to 7 p.m.
Work will continue in 2022 until a winter shutdown from November 2022 to April 2023. Work will resume in 2023, with the project anticipated to be complete by the end of August 2023.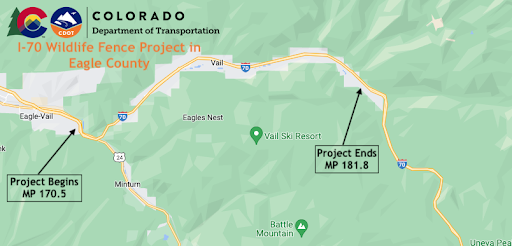 Project Information 
For additional information about this project:
Know Before You Go
Travelers are urged to "know before you go." Gather information about weather forecasts and anticipated travel impacts and current road conditions prior to hitting the road. CDOT resources include:
Remember: Slow For The Cone Zone
The following tips are to help you stay safe while traveling through maintenance and construction work zones.
Do not speed in work zones. Obey the posted speed limits.
Stay Alert! Expect the unexpected.
Watch for workers. Drive with caution.
Don't change lanes unnecessarily.
Avoid using mobile devices such as phones while driving in work zones.
Turn on headlights so that workers and other drivers can see you.
Be especially alert at night while driving in work zones.
Expect delays, especially during peak travel times.
Allow ample space between you and the car in front of you.
Anticipate lane shifts and merge when directed to do so.
Be patient!
Download the COtrip App!
The new FREE COtrip Planner mobile app was designed to meet the growing trend of information on mobile and tablet devices for the traveling public. The COtrip Planner app provides statewide, real-time traffic information, and works on mobile devices that operate on the iOS and Android platforms. Visit the Google Play Store (Android devices) or the Apple Store (iOS devices) to download!