Resurfacing project begins on CO 139 Douglas Pass
July 8, 2022 - Northwestern Colorado - 15-minute delays anticipated
Garfield & Rio Blanco Counties - The Colorado Department of Transportation and contractor partner United Companies have begun resurfacing work on Colorado Highway 139 Douglas Pass. Motorists should plan for 15-minute delays. The project is part of CDOT's Rural Paving Program outlined in the statewide 10-year plan.

Construction will take place at three locations on CO 139. Crews will conduct resurfacing at two locations: south of Douglas Pass for four miles from Mile Point 15 to MP 19, and north of Douglas Pass for 15 miles from approximately MP 37 to MP 52. Work will include 1" hot mix asphalt lane level paving, 1.5" HMA overlay, guardrail replacement, pavement marking and rumble strip installation. The third location will be in between the resurfacing, for 11 miles from MP 19 to MP 30. Work at the third location will focus on rumble strips installation.

The HMA will add approximately 10 years of life to the highway, provide a smoother road surface and will add durability by increasing the resistance of ruts and road damage. This will allow for a smoother and safer drive for motorists. 

Other benefits of the project include installation of new guardrail that will be 31 inches high, designed to meet new safety standard requirements. The higher railing will help veering vehicles remain on the road more effectively, making the highway safer for the traveling public. The former standard height of guardrail was 27 inches.
Traffic Impacts 
Motorists should plan for:
One-lane alternating traffic guided by pilot car
15-minute delays
10-foot width restriction
Reduced speed limit throughout the work-zone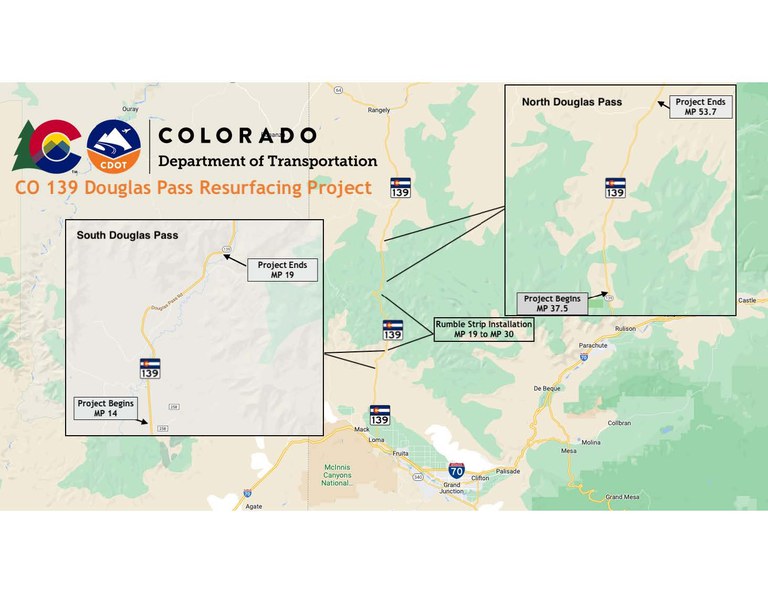 Project Information 
For additional information about this project:
Travelers are urged to "know before you go." Gather information about weather forecasts and anticipated travel impacts and current road conditions prior to hitting the road. CDOT resources include:
Remember: Slow For The Cone Zone
The following tips are to help you stay safe while traveling through maintenance and construction work zones.
Do not speed in work zones. Obey the posted speed limits.
Stay Alert! Expect the unexpected.
Watch for workers. Drive with caution.
Don't change lanes unnecessarily.
Avoid using mobile devices such as phones while driving in work zones.
Turn on headlights so that workers and other drivers can see you.
Be especially alert at night while driving in work zones.
Expect delays, especially during peak travel times.
Allow ample space between you and the car in front of you.
Anticipate lane shifts and merge when directed to do so.
Be patient!