CDOT begins chip seal work on CO 133 in Paonia and Somerset
July 13, 2022 - Northwestern Colorado - Chip seal operations begin end of July and is expected to last until the end of August
Gunnison and Delta Counties —The Colorado Department of Transportation, in collaboration with prime contractor United Companies, will begin chip seal operations at the end of July on Colorado Highway 133. The project work zone will include 12.3 miles of roadway outside the town of Paonia (Mile Point 11.43) and through Somerset (MP 23.8). Work is expected to last until the end of August.
The project will primarily consist of chip seal operations in both north and southbound lanes. Crews will begin by removing the existing epoxy pavement markings and repainting with temporary water seal paint that allows the future chip seal to adequately bind. The chip seal does not adhere to the epoxy paint and to prevent future separation of the chip seal, the old epoxy is removed and temporary striping is placed. Operations will then transition to asphalt patching, followed by a chip seal and final layer of epoxy paint. The project will improve and prolong the life of the road surface, offering a higher quality driving experience for travelers. Maintaining the integrity of state roadways is important to uphold the safety of all motorists.
Traffic Impacts
Crews will be working daytime hours from 7:00 a.m. to 7:00 p.m., Monday through Friday. Single-lane closures, alternating in each direction, are expected throughout the entirety of the project. During working hours, a pilot car will lead traffic through the work zone with a maximum delay time of 15 minutes. During non-working hours, all lanes will be reopened and the speed limit will be reduced to 40 mph in areas that exceed this limit. There will be an 11-foot width restriction during working hours through the project zone. Work hours on the project do not overlap with nighttime closures on the US 50 Little Blue Creek Canyon project.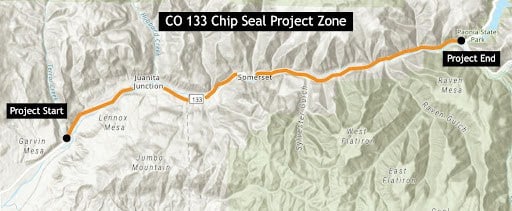 Project Information
For additional information about this project:
Know Before You Go
Travelers are urged to "know before you go." Gather information about weather forecasts and anticipated travel impacts and current road conditions prior to hitting the road. CDOT resources include:
Remember: Slow For The Cone Zone
The following tips are to help you stay safe while traveling through maintenance and construction work zones.
Do not speed in work zones. Obey the posted speed limits.
Stay Alert! Expect the unexpected.
Watch for workers. Drive with caution.
Don't change lanes unnecessarily.
Avoid using mobile devices such as phones while driving in work zones.
Turn on headlights so that workers and other drivers can see you.
Be especially alert at night while driving in work zones.
Expect delays, especially during peak travel times.
Allow ample space between you and the car in front of you.
Anticipate lane shifts and merge when directed to do so.
Be patient!
Download the COtrip App!
The new FREE COtrip Planner mobile app was designed to meet the growing trend of information on mobile and tablet devices for the traveling public. The COtrip Planner app provides statewide, real-time traffic information, and works on mobile devices that operate on the iOS and Android platforms. Visit the Google Play Store (Android devices) or the Apple Store (iOS devices) to download!