Rollin' with the Ohmies — again!
August 3, 2023 - Central/Eastern Colorado - Epic celebration of classic car EV conversions returns for second year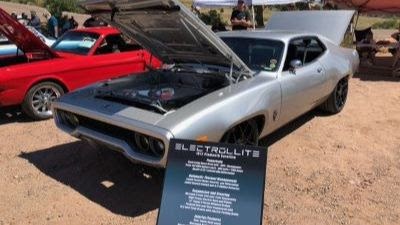 Denver - Those classic cars converted into electric vehicles are back.
"La Vida Volta," Colorado's fabulous free showcase of classic cars that have been converted into electric vehicles, returns for a second year, this time in Golden on Saturday, August 5. Plus, you'll have the opportunity to test drive some of the newest electric vehicles from Tesla, Lucid and Polestar.
The EV showcase, which runs from 2:30 p.m. to 7:30 p.m. Saturday at Golden High School, 701 24th St., Golden, is part of the "State of Charge '23" (click here for the State of Charge website) weekend of events being organized by EV promotion venture Ohm on the Range (click here for the OHM on the Range website) and sponsored in part by the Colorado Department of Transportation's Office of Innovative Mobility. The first "State of Charge" was held last year at Red Rocks Amphitheatre.
In addition to seeing the coolest converted classics on the road, you can check out the latest offerings from the likes of Rivian, Lucid, Ford, Hyundai, Kia and others, including opportunities to test drive Tesla, Lucid and Polestar vehicles. As a bonus, "La Vida Volta" will be held at the same time and location as the longstanding "Golden Super Cruise" — with hundreds of hot rods, muscle cars, imports, trucks and street rods. For more information on the Golden Super Cruise, click here.
"It's August, but you'll instantly feel cooler when you see all of these amazing vehicles," said Kay Kelly, chief of innovative mobility for CDOT. "What could be cooler than seeing classic automobiles that have been made emissions-free? Thanks to all the enthusiasts who spend months or even years converting these automobiles into EVs and then share their work with the public."