CDOT, CDPS and CSP celebrate opening of new, updated Eisenhower Johnson Memorial Tunnels Traffic Operations Center
November 7, 2023 - Statewide - CDOT continues to make new advances made to help keep roads open this winter
Statewide - Coloradans have experienced its first taste of snow in October, officially marking the start of the winter driving season. This year, the Colorado Department of Transportation is adding more to its arsenal to help keep traffic moving and travelers safe, especially along the Interstate 70 Mountain Corridor, by opening a new, updated Operations Center at the Eisenhower Johnson Memorial Tunnels and maintenance garage bays.
"We are now approaching an almost $2 million hit to the economy for every hour the I-70 Mountain Corridor is closed," said Shoshana Lew, CDOT's Executive Director. "Not only do closures delay important deliveries and transportation of goods, it also has a real impact on the livelihood of our travelers, which cannot be summed up by a figure. It is important to CDOT to do everything we can to alleviate those impacts and ensure a quick clearance of incidents along the interstate, which is why we invested in updating our technology at the Operations Center and constructing a new maintenance facility at the Eisenhower Johnson Memorial Tunnels."
While an Operations Center inside the Eisenhower Johnson Memorial Tunnels has already existed for decades, the technology within the Center needed to be updated to improve response times and safety. Upgrades include replacing decades-old copper wires, installing fiber optic cables, putting up new cameras and screens, all of which will increase the speed and quality of the Center's monitors inside the new building. Quality is imperative as it helps CDOT's Operators see if there is something in the road that needs to be cleared or get more details on an incident.
"The new cameras and monitors will allow us to zoom all the way into the roadway, up to two miles away from the tunnels, to detect even small debris such as nails," said Lew. "This allows our crews to remove it from the roadway before it becomes a hazard to motorists. We are also able to zoom in on incidents to better document and report what is going on. We will be able to see how many passengers are in a vehicle, license plate numbers and more. This helps aid our first responders, including CDOT maintainers, as they respond to an incident as they are going to have more details prior to approaching the scene that will help them know what they need ahead of time to help quickly clear the incident."
"The technology upgrades within the Eisenhower Johnson Memorial Tunnels will allow for real-time coordination and collaborative responses to traffic incidents along the I-70 corridor, particularly in those areas most known for mountain area congestion," stated Col. Matthew C. Packard, chief of the Colorado State Patrol. "Reducing the timeframe of a partial or complete closure also reduces the hazards adversely impacting the movement of people and freight. This improved capability, coupled with motorists preparing their vehicles and driving habits for the terrain and changing road conditions, can help us avoid serious human and economic consequences."
The new maintenance garage bays on the west side of the Tunnel will help crews mobilize and clear I-70 quicker as maintainers will no longer have to move snow off their equipment, something they frequently had to do at this location. When snow starts to fall, CDOT's maintainers at the Tunnels will already be prepped and ready to go.
"We are proud to have construction complete ahead of snow hitting the I-70 Mountain Corridor," said John Lorme, CDOT's Director of Maintenance and Operations. "Travelers should expect to see snow on a more frequent basis along this corridor any day now and should start preparing for winter driving now. It's critical that motorists check their tires or invest in new snow tires ahead of the season and get familiar with Colorado's Chain and Traction Laws."
"As public safety is at the heart of everything we do, we are pleased to witness the opening of this new Operations Center, which will provide improved response times and increased overall safety for those traveling along this crucial corridor that connects our diverse Colorado mountain towns and beyond," said Stan Hilkey, Executive Director of the Colorado Department of Public Safety. "This new and improved facility will be instrumental in aiding first responders, CDOT teams and all others who play a role in roadway safety and we are grateful for this improvement to one of Colorado's most heavily trafficked thoroughfares."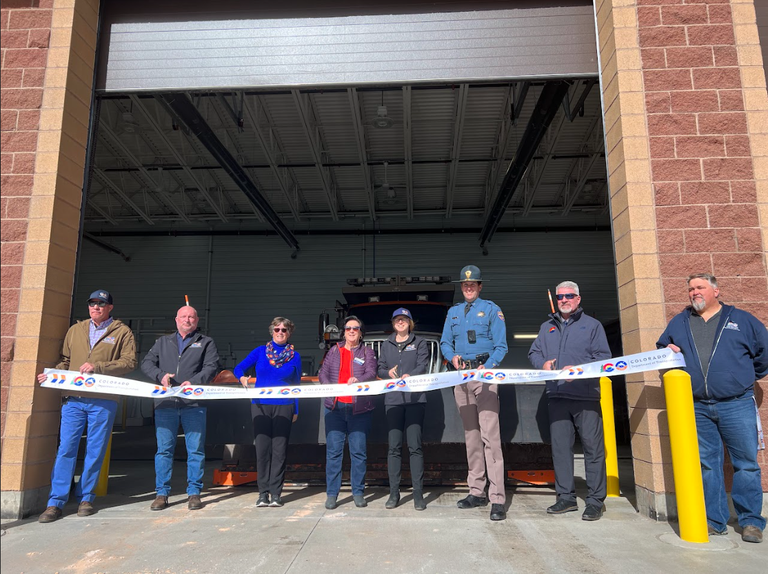 Know Before You Go
Travelers are urged to "know before you go." Gather information about weather forecasts and anticipated travel impacts and current road conditions prior to hitting the road. CDOT resources include:
Remember: Slow For The Cone Zone
The following tips are to help you stay safe while traveling through maintenance and construction work zones.
Do not speed in work zones. Obey the posted speed limits.
Stay Alert! Expect the unexpected.
Watch for workers. Drive with caution.
Don't change lanes unnecessarily.
Avoid using mobile devices such as phones while driving in work zones.
Turn on headlights so that workers and other drivers can see you.
Be especially alert at night while driving in work zones.
Expect delays, especially during peak travel times.
Allow ample space between you and the car in front of you.
Anticipate lane shifts and merge when directed to do so.
Be patient!
Download the COtrip App!
The new free COtrip Planner mobile app was designed to meet the growing trend of information on mobile and tablet devices for the traveling public. The COtrip Planner app provides statewide, real-time traffic information, and works on mobile devices that operate on the iOS and Android platforms. Visit the Google Play Store (Android devices) or the Apple Store (iOS devices) to download!