CDOT to begin rebuilding the eastbound I-70 Mount Vernon truck emergency escape ramp near Genesee
November 13, 2023 - Denver/Central Colorado - The ramp will close during construction - truckers are urged to make sure their rigs and brakes are in good condition before heading down the corridor
Jefferson County - Work is scheduled to begin November 13 to rebuild the eastbound I-70 Mount Vernon emergency escape ramp at Mile Post 257 just east of Genesee.
The Colorado Department of Transportation and their contractor Structures Inc. are delivering this project to make the ramp more visible and robust for truck drivers to use in the event of an emergency such as failed brakes or a mechanical failure while traveling eastbound on the I-70 mountain corridor into the Denver Region. Some of the improvements include better advanced signage, larger barriers between the ramp and the adjacent steep embankment, additional cameras at the ramp, new ramp lighting, and a better ramp design allowing for late entry should truckers miss the escape ramp entrance.
The project will take place over the winter season when hot brakes are at the lowest risk and truckers' speeds are reduced.
A few weeks after construction starts, the emergency escape ramp will close from the end of November 2023 until the project's completion, which is expected in late May/early June 2024. During this time, there will be no emergency escape ramp on eastbound I-70 from the Eisenhower-Johnson Memorial Tunnel (EJMT) to Golden. Truckers must make sure their brakes and vehicles are in safe working order before heading down the steep grade.
There are several locations along the corridor they can stop to cool their brakes and are listed on the COtrip map by going to COtrip.org. The hot brake locations are also listed below.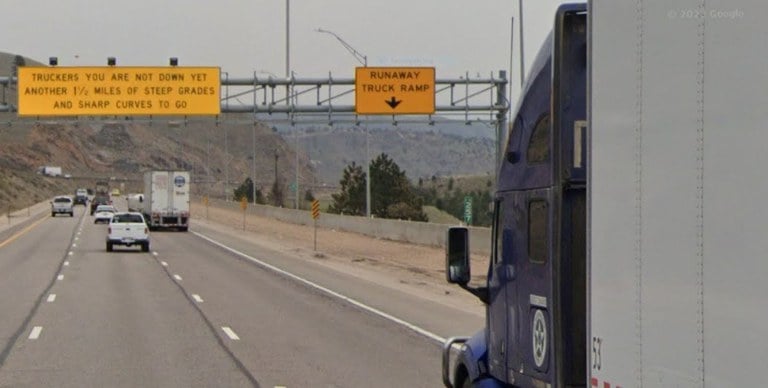 Traffic Impacts
Work will begin Nov. 13 with crews setting up temporary barriers and shifting traffic for construction work
On Monday and Tuesday nights (Nov. 13 and 14), there will be a single lane closure on eastbound I-70 at Mile Post 257 from 6 p.m. to 8 a.m. 
On Wednesday night (Nov. 15), there will be a single lane closure in the same area from 6 p.m. to 8 a.m. and then a second lane will close from 8 p.m. to 6 a.m.
Traffic impacts should be minor
Throughout the project, the shoulder along the construction area will be closed 24/7
There will be intermittent single lane closures during the day (off-peak travel hours) Monday through Thursday
There will be no lane closures during the weekends and holidays
Critical Information for Freight Drivers
The eastbound I-70 Mount Vernon emergency escape ramp will be closed to truckers and all vehicles from the end of November 2023 through late May/Early June 2024
Prior to the closure, signs along eastbound I-70 will be changed to notify drivers the ramp will be closed
The speed limit for heavy freight vehicles will be reduced from 45 to 40 miles per hour from exits 253 to 258
There will be an 11-foot width restriction on eastbound I-70 in the construction zone
Motorists are urged to drive with caution through the work zone and visit COtrip.org for the latest road conditions
Hot Brake Locations
Freight drivers can stop at any of the locations below to check their brakes:
Eastbound US 6, Mile Point 229 - Loveland Chain Station and Brake Check
Eastbound I-70, Mile Point 219 - Herman Gulch Chain Station and and Brake Check
Eastbound I-70, Mile Point 228 - Georgetown Chain Station and Brake Check
Eastbound/Westbound I-70 Dumont Weigh Station, Exit 234 (Downieville-Lawson Exit)
Eastbound I-70, Mile Point 241 - Idaho Springs Chain Station and Brake Check
Eastbound I-70, Mile Point 250 - El Rancho Chain Station and Brake Check
Truck parking off eastbound I-70 at the Walmart Supercenter in Evergreen - Exit 251
Eastbound I-70, Exit 254 (Genesee Park Exit) - Genesee Brake Check Area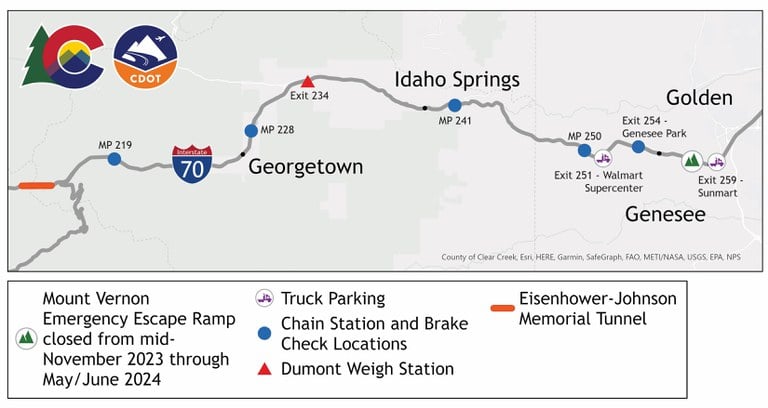 Project Information
For additional information about this project:
Know Before You Go
Travelers are urged to "know before you go." Gather information about weather forecasts and anticipated travel impacts and current road conditions prior to hitting the road. CDOT resources include:
Remember: Slow For The Cone Zone
The following tips are to help you stay safe while traveling through maintenance and construction work zones.
Do not speed in work zones. Obey the posted speed limits.
Stay Alert! Expect the unexpected.
Watch for workers. Drive with caution.
Don't change lanes unnecessarily.
Avoid using mobile devices such as phones while driving in work zones.
Turn on headlights so that workers and other drivers can see you.
Be especially alert at night while driving in work zones.
Expect delays, especially during peak travel times.
Allow ample space between you and the car in front of you.
Anticipate lane shifts and merge when directed to do so.
Be patient!
Download the COtrip App!
The new free COtrip Planner mobile app was designed to meet the growing trend of information on mobile and tablet devices for the traveling public. The COtrip Planner app provides statewide, real-time traffic information, and works on mobile devices that operate on the iOS and Android platforms. Visit the Google Play Store (Android devices) or the Apple Store (iOS devices) to download!