CDOT completes permanent repairs on CO 133
November 15, 2023 - Northwestern Colorado - Work completed ahead of schedule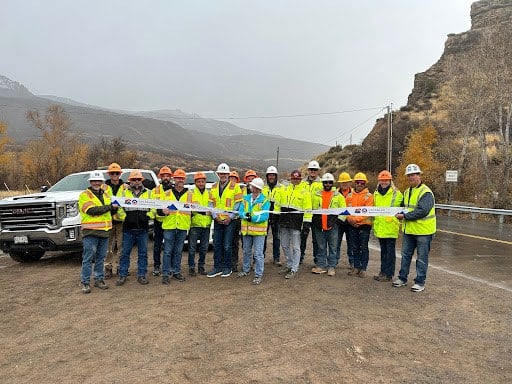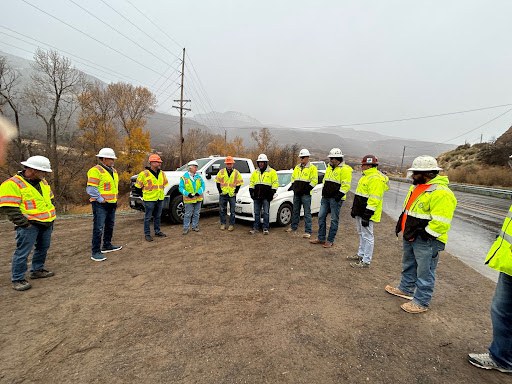 Delta & Gunnison Counties — Crews and local officials met on Wednesday, Nov. 8 to celebrate the completion of the permanent repairs to Colorado Highway 133 at Mile Point 16, located north of Paonia. Work on the project was completed a week ahead of the anticipated completion date and all traffic impacts on the project have ended. A critical element of the permanent repairs work was to ensure the Gunnison River and Bear Creek were protected from contamination and to complete restoration of the landscape.
Work began in August to permanently repair a culvert that had been damaged in May.
"CDOT deployed significant innovation in both the temporary and permanent repairs to keep traffic flowing as we did emergency work," said CDOT Executive Director Shoshana Lew. "Thank you to the Town of Paonia, Delta County, Gunnison County and other partner agencies for working with us towards those goals."
A temporary commuter shuttle was provided during emergency repairs, due to the high number of commuters that travel north daily to the Roaring Fork Valley.
"I want to express appreciation for the responsiveness of the CDOT staff to the concerns of the people of Paonia and the upper North Fork Valley to the economic impacts of the closure of Hwy 133," said Mary Bachran, Town of Paonia Mayor. "I was impressed by CDOT's efforts to ameliorate the situation, especially the trial bus service. Though it wasn't well utilized, the thought and coordination that went into the trial were impressive and much appreciated."
History of CO 133 culvert damage
The highway has been open since June 19 after the installation of a temporary bridge that provided connectivity to the Crystal River Valley from the North Fork Valley. A safety closure started on Tuesday, May 2, at Mile Points 14-19 due to significant road damage. The damage originally began with a small sinkhole and lane closure during the weekend of Saturday, April 29. Major flooding from nearby Bear Creek early the week of May 1 filled a culvert with debris and flooded the roadway, pushing the culvert through the other side of the road and eroded roadway embankment, causing the road to collapse. The damage and safety closure are near Somerset, just north of Paonia. Access to Somerset from the north, via CO 133 McClure Pass, continues to be open. 
On Monday, June 19, crews opened a temporary bridge on CO 133 to traffic. The reopening of the roadway took place 10 days ahead of the contractual deadline which was originally set for late June. Contractor R.L. Wadsworth began the temporary bridge construction on May 23. The process for that type of prefabricated bridge usually requires four months, but crews expedited the installation.