CDOT says sober driving is the ultimate home run; partners with the Northern Colorado Owlz to prevent impaired driving
July 14, 2023 - Statewide Traffic Safety - Agency distributes $25,000 in Uber credits
Haga clic aquí para ver este comunicado de prensa Para el Departamento de Transporte de Colorado, conducir sobrio es el máximo jonrón y la asociación con los Northern Colorado Owlz tiene como objetivo prevenir la conducción bajo los efectos de drogas y alcohol en español.
Northern Colorado — To save lives and encourage Coloradans to choose a sober ride, the Colorado Department of Transportation is partnering with Uber, whose website can be found here, and the Governors Highway Safety Association, whose website can be found here, to provide $25,000 in ride credits this summer. Joining forces with the Northern Colorado Owlz, CDOT's campaign now aims to reduce impaired driving to and from America's most popular pastime: baseball. The partnership comes at a time when heightened DUI enforcement is underway across the state. For more information on the Northern Colorado Owlz, click here.
Called the "Player's Pledge," the campaign encourages fans to cover their bases while attending Owlz games. Uber vouchers will be available at Future Legends Complex, the home stadium of the Owlz, through the 2023 season with PSAs displayed throughout the venue. Additionally, CDOT will be at the Northern Colorado Owlz home game on Friday, Aug. 25, handing out ride credits and encouraging fans to "join the winning team" and get home safe. The display will include a player-signed banner, signifying the team's own pledge to never drive impaired.
"Keep your summer plans safe by being responsible," said CDOT's Office of Transportation Safety Director Darrell Lingk. "All impaired driving crashes are preventable, and it is up to everyone to do their part and always plan ahead. Choose a sober ride when traveling to and from your favorite summer activities."
Fans can redeem a $10 Uber Voucher to their in-app Wallet for a safe ride during home games. Riders can enter code "OWLZRIDE" or use this link for a discounted ride to or from Future Legends Complex. Codes are valid through Sept. 9 at 11:59 p.m. or while supplies last. Riders should add the voucher to their Wallet prior to taking a trip.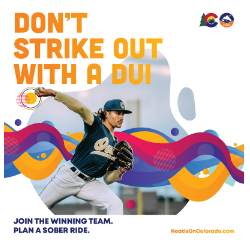 As part of The Heat Is On campaign, heightened DUI enforcement is currently underway. The Summer Strikeout enforcement period will continue through July 19. Additionally, the Sturgis enforcement period will occur from August 3 through August 15, and the Labor Day Crackdown enforcement period takes place from August 16 through September 6. For more information on the Summer Strikeout enforcement period, click here.
"It's one thing to drink while cheering on your favorite team, but it's a whole different issue to drive home afterward. Make a plan before the first pitch is thrown to find a sober ride home," said Col. Matthew C. Packard, chief of the Colorado State Patrol. "Enjoying the game should never include endangering the lives of yourself and others on the road. Find a sober driver and help us reduce impaired crashes and fatal injuries in our community."
There were 27 impaired-related crash fatalities in Larimer and Weld County last year. Studies show that Uber has helped reduce alcohol-related traffic fatalities throughout the U.S. For a link to the study, click here.
"With transportation alternatives like Uber, which studies show has a proven role in reducing drunk driving fatalities, fans have no excuse to drive while impaired," said Harry Hartfield, Senior Manager, Public Affairs, Uber. "We are proud to continue to do our part to help reduce drunk driving fatalities by encouraging fans to plan ahead and leave their keys at home if they plan to drink."
Earlier this year, Uber pledged $500,000 to five states with high impaired driving fatalities as part of impaired driving prevention efforts. CDOT, alongside four other departments of transportation, received this funding to make Uber Vouchers available for discounted rides and other impaired driving-focused initiatives.
About Uber
Uber's mission is to create opportunity through movement. We started in 2010 to solve a simple problem: how do you get access to a ride at the touch of a button? More than 39 billion trips later, we're building products to get people closer to where they want to be. By changing how people, food, and things move through cities, Uber is a platform that opens up the world to new possibilities.
About The Heat Is On
The CDOT Highway Safety Office provides funding to Colorado law enforcement for impaired driving enforcement, education and awareness campaigns. The Heat Is On campaign runs throughout the year, with 16 specific high-visibility impaired driving enforcement periods centered on national holidays and large public events. Enforcement periods can include sobriety checkpoints, saturation patrols and additional law enforcement on duty dedicated to impaired driving enforcement. Find more details about the campaign, including impaired driving enforcement plans, arrest totals and safety tips at HeatIsOnColorado.com. More information about DUI laws in Colorado can be found at NoDUIColorado.org. Learn more about CDOT's dedication to keeping Colorado roads safe, including impaired driving enforcement objectives, arrest data and safety information at codot.gov/safety.