Don't strikeout with a DUI; enforcement warns Coloradans to plan a sober ride
July 12, 2023 - Statewide Traffic Safety - 33% of Colorado crashes this year have involved impaired driving
Haga clic aquí para ver este comunicado de prensa Que no lo ponchen con un DUI; los organismos de seguridad advierten a las personas en Colorado que planifiquen viajar de manera sobria en español.
Statewide — Don't strike out on the road with a DUI. The Colorado Department of Transportation, Colorado State Patrol (CSP), and local law enforcement agencies will have all the bases covered in the upcoming DUI enforcement campaign. The Summer Strikeout enforcement period will run from July 13-19, removing impaired drivers from roads across the state.
Preliminary CDOT data shows that through July 6 of this year, 96 of the 290 fatal crashes, or 33%, involved an impaired driver. There have been 101 fatalities related to impaired driving so far this year.
"When you are out there enjoying summertime activities, like cheering on the Rockies, remember to plan for a sober ride home from games," said Col. Matthew C. Packard, chief of the Colorado State Patrol. "It only takes one drink to impair your driving ability and that it is never worth putting your life or the lives of others at risk."
To keep safety top of mind during summer activities, CDOT, the Governors Highway Safety Association (GHSA) and Uber, whose website can be found by clicking here, are providing $10 Uber ride credits during the Summer Strike Out enforcement. Valid while supplies last, the ride credits are available statewide and can be redeemed using the code "SUMMERSAFE" in the Uber app from July 12 at 5 p.m. through July 23 at 11:59 p.m. To apply the credit directly to the Uber app from a mobile device, click here.
"All fatalities caused by impaired driving are preventable — we cannot let this careless choice be the reason that innocent lives are lost on our roads," said CDOT's Office of Transportation Safety Director Darrell Lingk. "Impaired driving is not a game. You're gambling with your life and the lives of others when you get behind the wheel under the influence of any substance."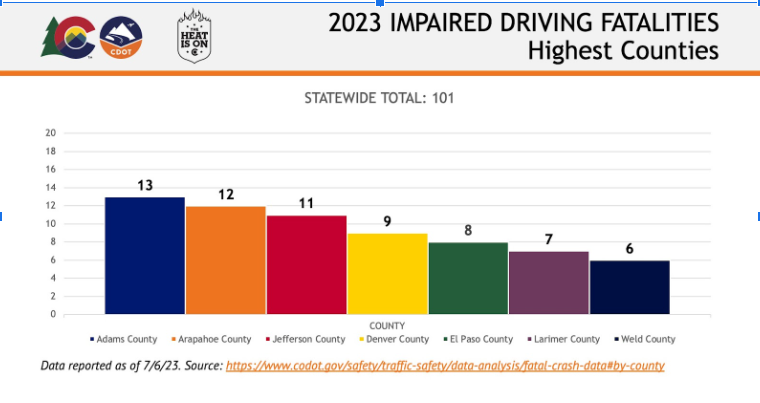 "Impaired driving impacts too many lives," said Harry Hartfield, Senior Manager, Public Affairs, Uber. "Uber plays an important role in helping reduce drunk driving fatalities across the country, and we are thrilled to continue to work with the Colorado Department of Transportation to do our part to remind everyone to plan ahead this summer, and never drink and drive."
The previous Fourth of July enforcement period concluded with 110 DUI arrests across 69 participating law enforcement agencies. The agencies with the highest number of arrests were the Larimer County Sheriff's Office (12), the Lakewood Police Department (10) and the Colorado Springs Police Department (9). CSP reported 22 arrests.
For yearly impaired driving crash and fatality data in Colorado, visit codot.gov/safety/traffic-safety/data-analysis/fatal-crash-data. For local law enforcement agency plans, visit codot.gov/safety/traffic-safety-reporting-portal.
About Uber
Uber's mission is to create opportunity through movement. We started in 2010 to solve a simple problem: how do you get access to a ride at the touch of a button? More than 39 billion trips later, we're building products to get people closer to where they want to be. By changing how people, food, and things move through cities, Uber is a platform that opens up the world to new possibilities.
About The Heat Is On
The CDOT Highway Safety Office provides funding to Colorado law enforcement for impaired driving enforcement, education and awareness campaigns. The Heat Is On campaign runs throughout the year, with 16 specific high-visibility impaired driving enforcement periods centered on national holidays and large public events. Enforcement periods can include sobriety checkpoints, saturation patrols and additional law enforcement on duty dedicated to impaired driving enforcement. Find more details about the campaign, including impaired driving enforcement plans, arrest totals and safety tips at HeatIsOnColorado.com. More information about DUI laws in Colorado can be found at NoDUIColorado.org. Learn more about CDOT's dedication to keeping Colorado roads safe, including impaired driving enforcement objectives, arrest data and safety information at codot.gov/safety.